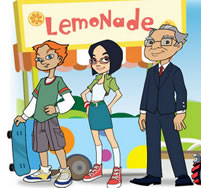 Secret Millionaires Club (SMC) is an animated series about a group of kids learning how to make good financial decisions and solve business problems. Episodes are available online for free. Their mentor is none other than Warren Buffett! Here's part of a Reuters interview with Buffett regarding his involvement.
Q. How do financial literacy and entrepreneurship fit together?

A. Not everybody's going to be an entrepreneur, but everybody should be financially literate. Financial literacy is a base requirement like spelling or reading or something of the sort that everybody should acquire at any early age. The financial habits you develop when you are young are going to go with you into your adulthood. But you can't be an entrepreneur unless you're financially literate.
They also run the annual Grow Your Own Business Challenge (GYOB), a nationwide contest for entrepreneurial kids aged 7 to 14. This year's finalists included an intergenerational online community, a custom bow tie business, a worm composting kit, and a community garden that also helps feed hungry children. You can watch their pitch videos on YouTube.
After watching a few episodes, they are actually pretty good. The concepts are short (~5 minutes long) and digestible. Here's the first one:

Starting a tiny business may be the funnest and thus most effective way to teach kids about money. As a parent, I'd much rather do that than give them an allowance and then force them to "save" a certain percentage. (Is it really saving if it's not optional? Sounds more like a tax.)