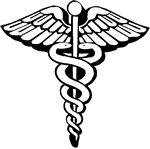 By now, we've all read things about the Patient Protection and Affordable Care Act (PPACA), also known as Obamacare. One concern is the PPACA's impact on early retirees, or really anyone who wants to buy their own non-employer health insurance? The PPACA is eliminating many high-deductible health plans which many such folks previously used due to their low premiums. But at the same time, many others who didn't pass the medical screening were faced with astronomical premiums if you could get coverage at all. Could the PPACA actually improve the overall affordability of comprehensive health care?
I'm not going to claim I completely understand everything about the PPACA and I certainly won't cover it all here, I can only try to provide concise a few examples with sources.
What do I get? First, let's recap some basics about the insurance you can buy on the new exchanges. You can no longer be denied insurance due to your health history, minimum coverage levels were set for all plans, and certain preventative care services are now free without copays. Taken from the PPACA Wikipedia page:
Guaranteed issue prohibits insurers from denying coverage to individuals due to pre-existing conditions, and a partial community rating requires insurers to offer the same premium price to all applicants of the same age and geographical location without regard to gender or most pre-existing conditions (excluding tobacco use). […]

Under the law's authorization, Secretary of Health Kathleen Sebelius issued a set of defined "essential health benefits"[22] that all new insurance plans have to include. […] Among the essential health benefits, preventive care, childhood immunizations and adult vaccinations, and medical screenings are covered by an insurance plan's premiums, and cannot be subject to any co-payments, co-insurance, or deductibles.
Am I eligible for a subsidy? Subsidies for healthcare premiums are determined by your income relative to the Federal Poverty Level (FPL). Here are the 2014 FPLs by household size, as calculated by the Department of Health and Human Services (for 48 contiguous states, higher in Alaska and Hawaii).
2014 POVERTY GUIDELINES FOR THE 48 CONTIGUOUS STATES AND THE DISTRICT OF COLUMBIA

| Persons in family/household | 100% FPL | 400% FPL |
| --- | --- | --- |
| 1 | $11,670 | $46,680 |
| 2 | $15,730 | $62,920 |
| 3 | $19,790 | $79,160 |
| 4 | $23,850 | $95,400 |
| 5 | $27,910 | $111,640 |

Your household's modified adjusted gross income (MAGI) must be below 400% FPL in order to receive a subsidy. As long as you are below 400% FPL, your health insurance premiums cannot exceed 9.5% of your income. Modified takes your AGI (Line 4 on a Form 1040EZ, Line 21 on a Form 1040A, or Line 37 on a Form 1040.) and adds back in certain deductions like non-taxable Social Security income, foreign income, and tax-exempt interest.
You may be surprised that a family of four could have an MAGI of $95,000 and still be eligible for a subsidy.
How much will it cost for a couple with no kids? Let's assume a couple, both age 40, California resident, and $60,000 MAGI. This is under 400% FPL so they get a subsidy. California's exchange website is CoveredCA.com. Here are results for a middle-of-the-road Silver plan for the couple with $60,000 income: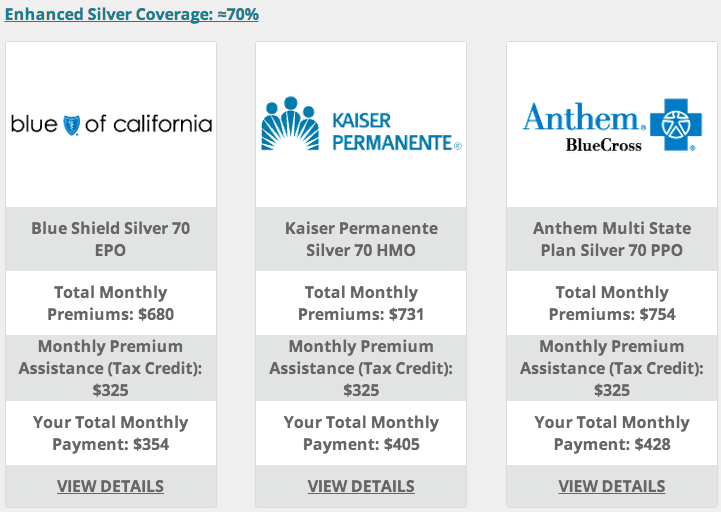 Let's pick the cheapest Blue Cross Blue Shield option: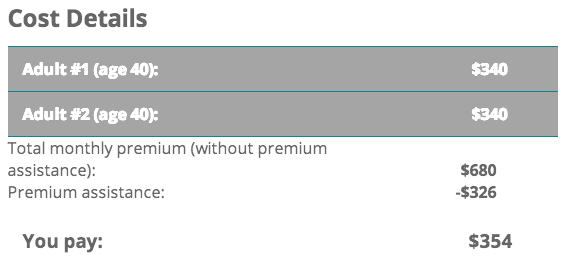 The total quoted was $354 a month, or $177 per person, per month after subsidies.
If they made $95,000 a year, then they would have no subsidy and be quoted just the flat $340 per month, per person.
How much will it cost for a family of four? Let's try 2 adults, both 40 years old, and 2 dependents under 18. They live in California and make $60,000 MAGI a year. Here are results for a Silver plan for the family with $60,000 income: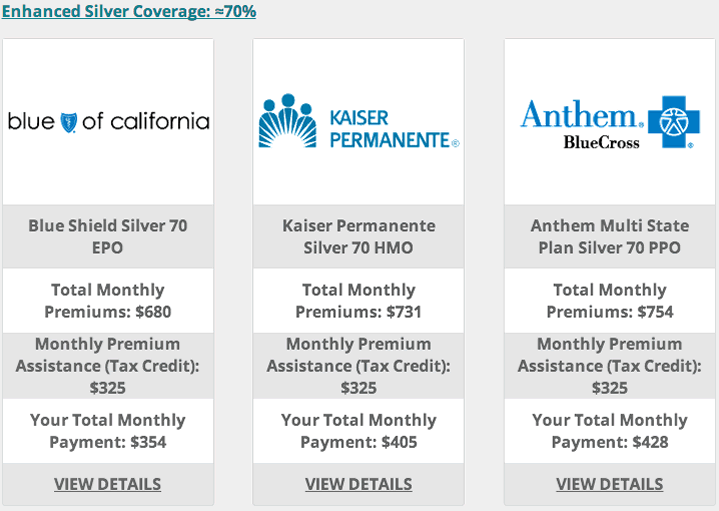 Let's pick the cheapest Blue Cross Blue Shield option: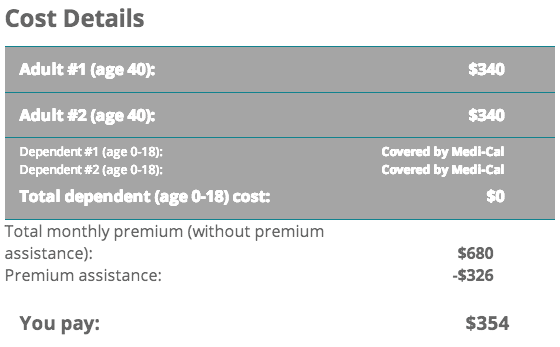 The total quoted was $354 a month after $326 a month in subsidies. I was somewhat surprised to see that the kids would be covered by Medi-Cal, which is commonly considered a welfare program for low-income families.
Here are results for a Silver plan for the family with $95,000 income: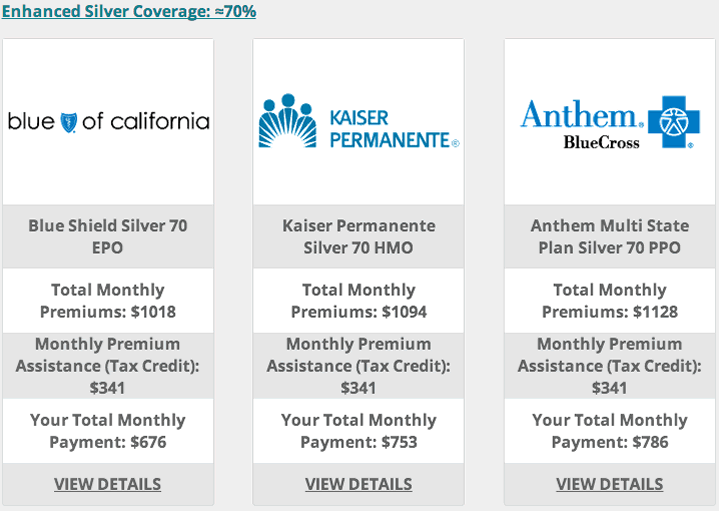 Let's pick the cheapest Blue Cross Blue Shield option: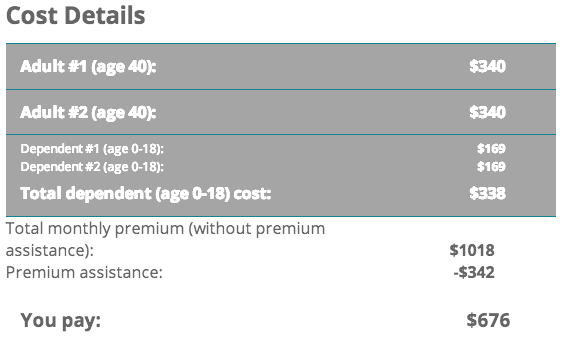 The total quoted was $676 a month after $342 of subsidy. Most of the difference between the $60,000 income figures was due to the fact that I would have to pay for dependent coverage.
Recap. The primary takeaway is that you should try and get some actual quotes, as you may be surprised by your findings. While you can play around with the California website pretty easily, note that other states may offer a much more frustrating experience at their exchange. Alternatively, you can try a comparison site like eHealthInsurance.com which also has ACA-compliant individual plans. I tried various ages up to the 60s (before Medicare kicks in at 65) and the numbers didn't rise significantly. If I was a retired couple under 65 and on a budget, I would consider paying under $200 a month per person to be "affordable". Even if you aren't retired, these numbers may allow many people to pursue self-employment when otherwise they would be scared to lose employer-linked group health insurance.
The secondary takeaway is that the subsidy is significant, and it may take some planning to qualify for it upon early retirement. If you miss the income cutoff by even a small amount, you end up paying thousands more in premiums. Qualification also looks at your most recent tax return, which may not reflect your current income. If you are transitioning to early retirement, you likely had a high savings rate which means your past income might be high while your income needs in retirement could be much lower. I need to do more research on if you can get the subsidy retroactively in this type of situation.
Update: I wrote an additional post about Affordable Care Act out-of-pocket cost subsidies.