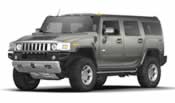 Are you sick of hearing about the subprime mortgage crisis? I sure am. But here's a satirical news story from Patrick.net that even I found amusing – SUV Bailout To Keep America Humming.
Lawmakers in Washington are near final agreement on a proposed $400 billion bailout of SUV buyers. The massive amount of debt taken on by drivers in an attempt to ensure that their vehicles are significantly bigger than their neighbors? vehicles has resulted in millions teetering on the brink of bankruptcy. ?We need to keep these people in their Hummers, at whatever cost to taxpayers? said Treasury Secretary Henry Paulson. Paulson is expected to announce details of the plan as soon as Wednesday, said sources familiar with the matter.

With more than 2 million drivers facing higher interest costs and the possible loss of their oil-company-friendly vehicles if they cannot meet the payments, the future of US overconsumption is at stake. The White House on Friday said it was appropriate to build a ?bulwark? against the SUV sector?s woes. ?After all?, said President Bush, ?it would not be American for us to live within our means and be responsible for our own financial decisions. Those who failed to spend themselves deeply into debt should pick up the tab to keep real Americans riding high.?
While not perfect, here are the ways in which I agree with this SUV analogy:
Stuff is stuff. You have a $20,000 car through a $20,000 loan. You stop paying that loan. What happens? It gets repossessed! You don't really own that car. You only own the right to use it as long as you make the loan payments. When I hear "they're taking my home away!!", I empathize the same amount as if they said "they're taking my car/iPod/HDTV away!!" (which might be a lot or a little depending on the circumstances).
Mortgages are sold by salespeople. Cars are sold by salespeople. HDTVs are sold by salespeople. I don't recall any laws being broken here, so what did we really expect from them? Sound financial advice? Unbiased opinions? We never fault car salesmen for painting their products in a good light, we take responsibility if we bought a Hummer we couldn't afford.
Ironically, there actually are tax advantages for large SUVs when used for small businesses.