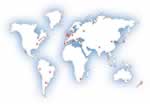 Back in February, I received a mailing about a class-action lawsuit claiming that Visa, MasterCard, their member banks, and Diners Club conspired to set and conceal markups and fees, typically of 1-3%, on foreign transactions. It appears that the settlement amounts have been agreed upon. Here are some selected excerpts from the official settlement website and FAQ.
Am I a member of the settlement class?
Those persons who made a foreign transaction using a Visa-, MasterCard-, or Diners Club- branded credit, charge or debit/ATM card between February 1, 1996 and November 8, 2006 are members of the Settlement Damages Class.
How do I complete the claim form?
You need to complete and submit a claim form prior to the deadline, either on-line at www.ccfsettlement.com/claim, or by mailing or faxing in the form.
Option 1 is an Easy Refund of $25 and is recommended if you travel outside of the U.S. for less than one week or had foreign transactions of less than $2,500 using your eligible cards during the class period.
Option 2 is a Total Estimation Refund that is based on typical spending during travel and answers to the few questions listed on the claim form. This option is recommended if you traveled outside the U. S. for more than one week or had foreign transactions of more than $2,500.
Option 3 is the Annual Estimated Refund option. It is recommended if you had extensive foreign travel or foreign transactions and are willing to provide year-by-year information.
Seems like a pretty huge settlement class! You don't even need to have gone anywhere, maybe you just bought something online in a foreign currency. If you choose the simple $25 option, you will need to provide your name, address, credit card number, issuing bank, and the last 4 digits of your Social Security number. This site has been reported in various new outlets, so I believe it to be legitimate. Also, thanks to the readers who reminded me about this.