Paid surveys can be a reasonable source of additional income for certain folks. On a strictly per-hour basis, they end up at around $5-9 an hour and can get tedious. But hey, you can do them during downtime on the job or late at night while watching Leno in your pajamas, while adding up gradually to hundreds of dollars over a year. Personally, I find myself being more and more picky about them as time goes on.

PineCone Research remains one of the more elusive and better paying survey companies, with a payout of $3 for each 15-20 minute survey. Thanks to Barry for sending me the most recent recruitment e-mail, which states that they are looking for new members who are male and 18+. Here's the new PineCone application link. I've anonymized the link, but this still won't last long!
*Two important tips to keep the PineCone gravy train running:
– Whatever info you sign up with, keep it up to date and follow it exactly. For example, if your profile says you're 35 and in a later survey you state that you're 46, you may mysteriously stop getting any new surveys.
– Fill the surveys out as soon as you get them. If you miss enough survey deadlines, they will also remove you.
Other Paid Survey Sites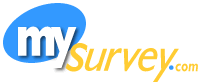 In my experience, NFO MySurvey. and SurveySavvy continue to give me the most paid survey opportunities, even if I don't do every single one. I've gotten multiple checks from both now.
I don't get hardly any surveys anymore from American Consumer Opinion, Greenfield Online, or Lightspeed Panel, but that may be due to my long periods of inactivity. SurveySpot only gave me sweepstakes entries.