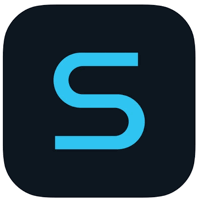 Updated with MyPoints promo and Stash Stock Party info. MyPoints has a new Stash promo that has a total value higher than the $20 Stash referral offer. If you don't already have a MyPoints account, you can first join via this $10 MyPoints referral link to grab an additional $10 upfront bonus. Then log into your MyPoints account and search for "Stash". Right now, MyPoints is offering 11,000 points (worth $70 in gift cards including Amazon) if you open via their link and deposit at least $5. Stash will give you another $10 as well, for a total bonus of $80. This is a limited-time offer. Their fine print:
*Points will appear as Pending for 32 days.
Must enter valid sign-up information, including bank account information to earn Points.
Offer may only be redeemed once (1) per user.
Original post with full review:
Stash is an investing app targeted that people who want a simple way to build a long-term diversified portfolio, as opposed to day-trading meme stocks, crypto, or high-risk options. All you need is five bucks, a smartphone, and a bank account.
Fee structure and plan features. Stash charges a simple, flat monthly fee. The three plan options are $1/month, $3/month, and $9/month (screenshot below). You make purchases in dollar-based amounts (fractional shares) and there are zero commissions per trade. Each ETFs still has its own underlying expense ratio, as with all brokers.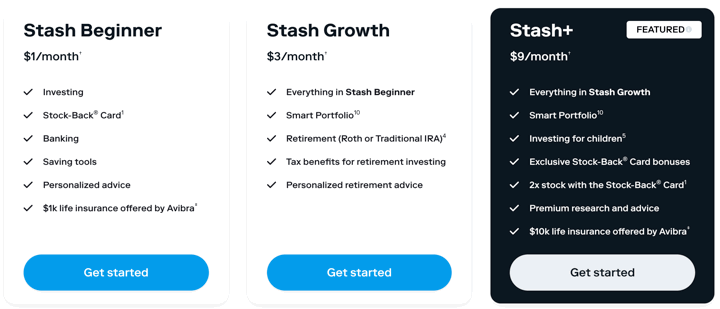 $1 a month tier (Beginner)
Taxable brokerage account and your selected mix of individual stocks and/or ETFs.
Automated investing. You choose how much money to direct each month, and all of that money will automatically be fully invested via fractional shares.
Stock-Back rewards debit card. If you open an optional bank account (Green Dot Bank), they will issue you a debit card that earns rewards in the form of stock shares. Earn 0.125% stock on all of your everyday purchases, and up to 5% at certain merchants with bonuses.
Savings and budgeting tools to help decide the right amount to put aside each month.
$1,000 in life insurance.
$3 a month tier (Growth)
Everything in the Beginner tier above, plus…
Traditional and Roth IRAs are supported.
Smart Portfolio. At this higher tier, Stash will help you design a target mix of ETFs that fits your needs.
Automatic rebalancing. Stash will automatically monitor and rebalance your portfolio as needed, if it drifts away from your target portfolio.
$9 a month tier (Stash+)
Everything in the Beginner and Growth tiers above, plus…
Children's Custodial accounts. Invest in separate UGMA /UTMA account for your children under 18.
Double Stock Back. Get special bonuses the Stock-Back® Card and double the rewards you would earn on the regular tier.
Automatic rebalancing. Stash will automatically monitor and rebalance your portfolio as needed, if it drifts away from your target portfolio.
$10,000 in life insurance.
Stock and ETF trades are executed during four trading windows each weekday. Dividend reinvestment is offered on taxable, IRA, and custodial accounts. Stash Investments LLC is an SEC registered Investment Advisor, which means they are licensed to provide you retirement and investing advice. For me, the relatively low rewards percentage on their Stock Back card is not high enough to make it stand out, especially when compared to the 1% to 2% cash back you can get from other rewards credit cards.
The main draw to this app is the ability to automatically build a portfolio using small, regular amounts. This feels like a descendent of dividend reinvestment plans (DRIPs) where you would send in a check for $25 or $100 and be invested in a company's stock like ExxonMobil. My great-aunt still gets a check every quarter from ExxonMobil from a DRIP she started decades ago. These days, you can pick nearly any company or group of companies via index ETFs.
Many other stock brokers offer commission-free trades, but the set-and-forget feature where it just sucks money from your bank account every month is very important. You can invest as little as $5 a month, automatically. Of course, this is a crowded field nowadays, and if you had the $1,000 minimum required for a Vanguard Target Retirement mutual fund at Vanguard.com, you could also make automatic additional investments of as little as $1 a month. I would also consider M1 Finance a close competitor.
Sign-up process.
Sign up via app or online. Now available on desktop, iOS, and Android.
Your personal information (name, address, SSN), same as with all SIPC-insured brokerage accounts.
Fill out a short risk questionnaire to help guide you towards an appropriate investment.
Pick your investment, which you can change later.
Fund with any bank account. Verification can be done via two small test deposits. For many banks, you can expedite the linking process by using your bank login credentials instead.
Stash Parties for free bits of stock. Every few days, the app will notify you of an upcoming "Stash Stock Party":
By attending a Stash Stock Party, Stashers can get pieces of offered stock(s). The amount of stock depends on the amount of people that attend the Stock Party—the more people that show up, the bigger the split prize pot (and your share of it) ultimately grows. To join a party, just visit this page (party.stash.com) on the party day, log in, and tap Claim stock.
If you log in during their pre-announced short window of time, you can claim a tiny bit of free stock (might only be 10 cents or 30 cents of stock). This is definitely gimmicky, but I realized that it basically covers my a $1 monthly subscription fee, and now I get to watch how these tiny bits of stock can grow over time. They are like little free lottery tickets. If I am not busy, I pick up them up. If I'm busy, no big deal. I have no plans to sell them. Here are some screenshots showing just a portion of my little tiny stock positions: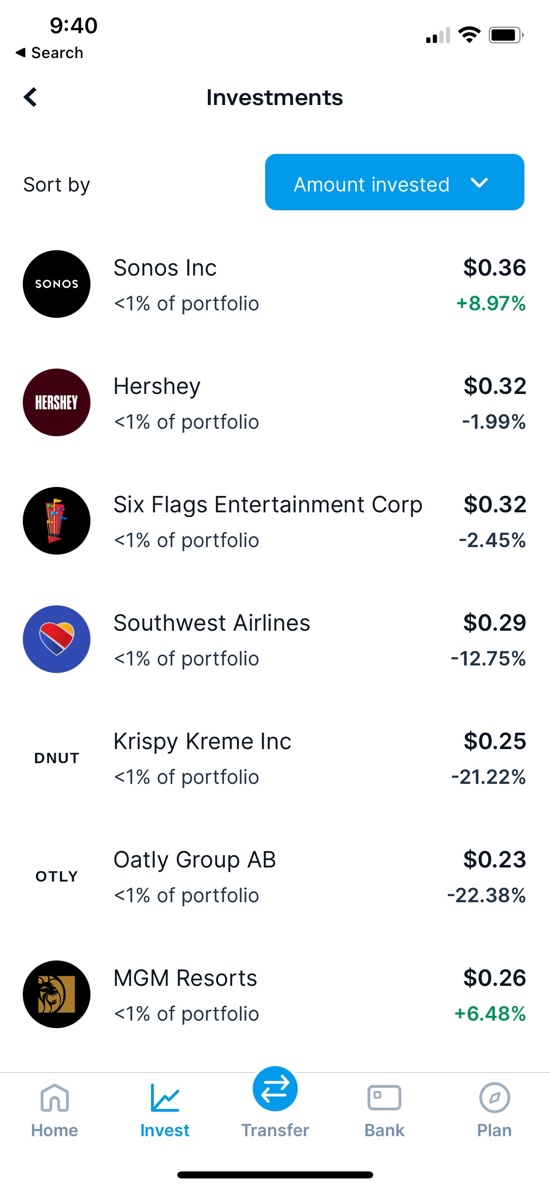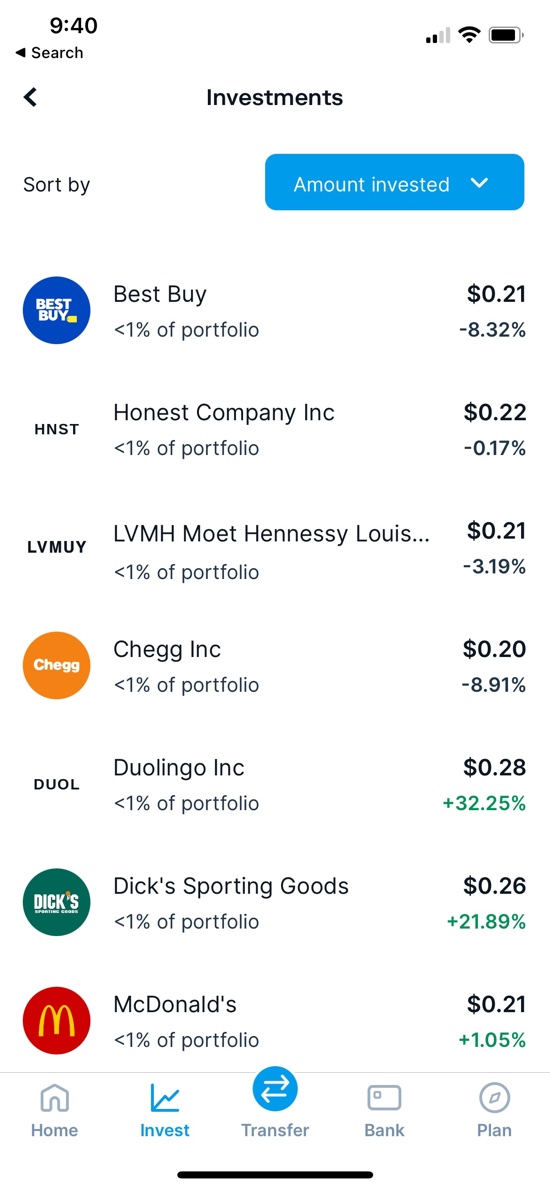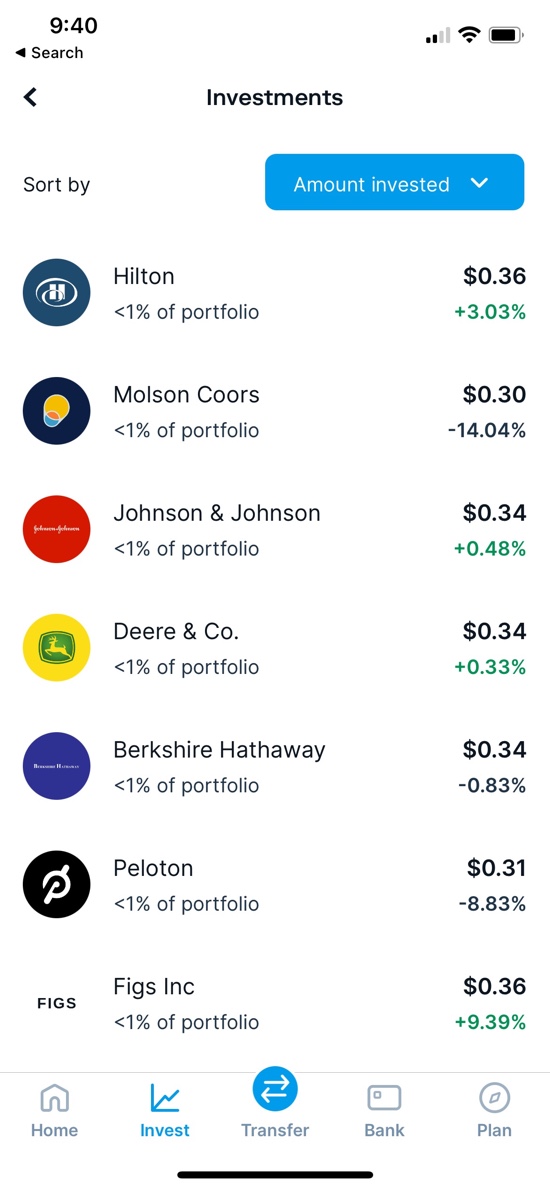 $20 referral bonus. Right now, if you sign up via a Stash referral link, you can get $20 of free stock (or cash). The standard amount used to be only $5. That is my link, so thanks if you use it! You must open an account, link a bank account, and fund with at least a penny ($0.01) into your new Stash investment or bank account. You don't need to make a stock purchase, although you certainly can. Screenshot with details: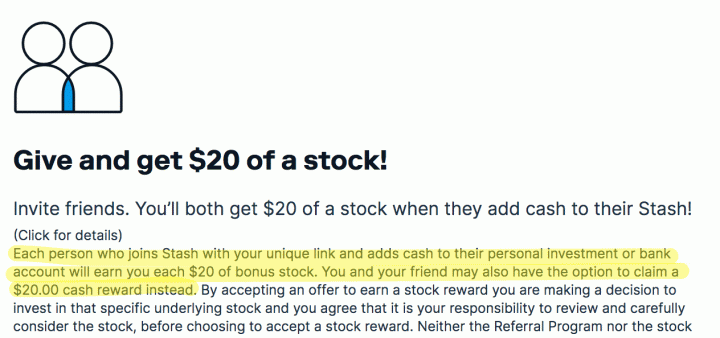 Bottom line. Stash is a financial app that allows you to gradually and automatically build an investment portfolio using regular purchases of a mix of individual stocks and ETFs. They charge a flat monthly fee starting a $1 per month. Right now, new users can get $20 of free stock to start via referral link.
Also see: Big List of Free Stocks For New Commission-Free Brokerage Apps