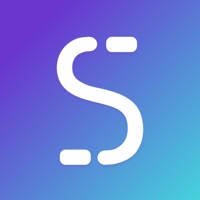 Got five bucks, a smartphone, and a bank account? You're just a few taps from starting your own investment portfolio.
Stash is a new smartphone app that lets you invest in a curated selection of roughly 40 different ETFs. Stash Investments LLC is an SEC registered Investment Advisor. You can start with as little as $5 and add more in any increment via fractional share ownership.
What do you need to sign up?
Download the app. Now available on both iOS and Android.
Your personal information (name, address, SSN), same as with all SIPC-insured brokerage accounts.
Fill out a short risk questionnaire to help guide towards an appropriate investment.
Pick your investment, which you can change later. See below for details.
Fund with any bank account. Verification can be done via two small test deposits. For selected banks, you can expedite the linking process by using your bank login credentials instead.
Portfolio details. You can choose from about 40 different "investments", which are really just re-labelled exchange-traded funds (ETFs) that anyone can buy with any brokerage account. The idea is to make things more approachable and not to scare you away with things like ticker symbols, limit orders, and so on. Based on a risk questionnaire, you will be identified as either a Conservative, Moderate or Aggressive investor. You will only be shown options that are below or at your designated risk level.
Fractional shares are used. That means you can invest odd numbers like $7 or $217 and still have it fully invested in something that costs $100 a share. Based on their FAQ, dividends are not automatically reinvested. Dividends are deposited as cash and will stay there until you decided to invest it. You cannot invest in individual stocks (unless they happen to be listed an investment).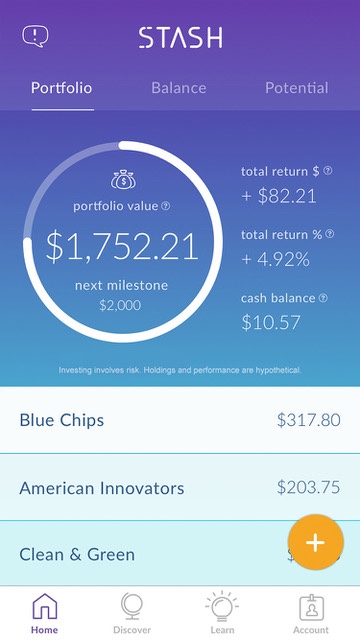 Fees. Free for the first month. After that, $1 per month for balances below $5,000. Once you reach $5,000, it switches over to 0.25% of your balance per year. (Example. $10,000 x 0.25% = $25 per year.) Fees are taken from your bank account, not from your Stash investment portfolio. Stash does not charge monthly subscription fees if your account balance is $0.
Each underlying ETF has their own embedded expense ratio. No added commission fee for stock trades.
This and that. After reading through their FAQs and disclosures, here are other notable items:
You can only link one bank account at a time to Stash. If you wish to make a change, you must e-mail them at support@stashinvest.com.
Online statements are free. Paper statements are $5 each.
You may only deposit up to $10,000 per day via online bank transfer. You cannot deposit physical checks.
you may only withdraw up to $10,000 per day via online bank transfer. You cannot request a withdrawals via physical check.
Stash uses Apex Clearing as their custodian firm. Many other similar brokerage sites use Apex.