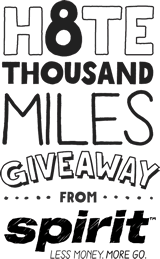 Spirit Airlines is a budget airline that charges for things like carry-ons and printing a boarding pass at check-in. They have the highest number of complaints per passenger. But they're cheap – they claim 40% lower on average. They are also known for controversial ad campaigns, including their most recent Hate Thousand Mile Giveaway. Basically, make a complaint about any airline and get 8,000 Spirit miles. If you don't have one yet, you can sign up for a free account beforehand.
As previously mentioned, you can grab another 1,000 Spirit miles with a new Rewards Dining account and spending $30 (tax and tip count) at a participating restaurant. Get another 750 bonus miles by signing up for MyPoints and making a $25 purchase through their shopping mall. Finally, get 400 miles for joining a survey site and taking your first survey.
What can you do with Spirit miles?
Free flight award chart. One-way awards start at 10,000 miles. This is why I mention the partners above, as a possible way to get to 10k without flying.
However, if you apply for their branded credit card, one-way awards start at 2,500 for off-peak awards. But since everyone is getting these free miles, I don't know how easy it will be to grab one of these.
Free magazine subscriptions. Via MagsforMiles, 40 issues of Fortune is 2,900 miles, 51 issues of The Economist is 4,800 miles, 12 issues of Money is 1,200 miles, 304 issues of Wall Street Journal is 4,800 miles, 52 issues of Time is 1,800 miles. Other examples are Sports Illustrated, Vogue, People…
So at worst, fill out a 60-second form and get two free magazine subscriptions. I just did it and I'm not really sure where the "hate" goes, I guess they just want to remind us that other airlines stink too. "Miles will be posted to your FREE SPIRIT account within 10 days of submission." Keep in mind that miles expire after only 90 days of inactivity. So redeem quickly or sign up for the dining miles program to extend expiration.