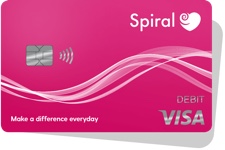 Spiral is a new fintech banking app (iOS only currently) with a unique mandate on social responsibility through charitable giving. If you maintain an account with them, you must agree to set aside some portion of every deposit towards a charitable donation (Giving Account). The minimum amount is 0.25% ($2.50 for every $1,000 deposited). In turn, Spiral will match your donations up to $150 per year. Spiral is a fintech, with banking services provided by nbkc bank, Member FDIC. Hat tip to DoC.
Sign-up bonuses. Spiral is also offering some good sign-up bonuses to encourage you to try them out. There are currently two separate bonuses:
$50 bonus when you fund your new Spiral checking account with at least $200 by November 30, 2021.
$200 bonus after recurring direct deposits of at least $1000 each month for two consecutive months.
Inactivity fee warning. They promise the usual no minimum balance and no monthly fees, but there is an inactivity fee that is relatively punitive:
Spiral will charge your account $7 per month (up to 6 months) if you do not make a deposit or withdrawal for 90 days. Interest posting is not considered a deposit for purposes of this fee.
Giving Account details. Here's an excerpt from the terms of their Giving Account:
As a condition to opening and maintaining a Spiral Account and receiving the Spiral Services, you must open an account designated as your donation or giving account (the "Giving Account"). Upon establishing your Spiral Account, you must deposit an amount equal to no less than 0.25% of your initial and future deposits to your Checking or Savings Accounts in the Giving Account. You may select (and periodically adjust on the Spiral App and Spiral Website) by indicating the percentage (between 0.25% and 20%) of each deposit (rounded down to the nearest penny). You agree to direct the distribution of funds in the Giving Account to a charitable organization of your choice that is an organization that qualifies as an exempt organization under section 501(c)(3) of the Internal Revenue Code, or the corresponding section of any future federal tax code, through the Spiral App and Spiral Website.
They have a very large directory of millions of eligible nonprofits.
Application details. I found this app interesting and decided to try it out. The application was straightforward, 100% online, and took a few minutes. My free credit monitoring suite detected no hard credit checks. I connected an external checking account via Plaid, made a $250 deposit, and quickly received in-app confirmation that I qualified for the $50 bonus.
My $250 deposit is pending, but I was reminded that $0.62 will be set aside for my giving account (see screenshots below). It appears that Spiral also seeded my giving account with a $5 "Giving Cash Bonus" as well. I discovered that the savings account only pays 0.07% APY, so I did not open one. I intend to go for the direct deposit bonus as well.