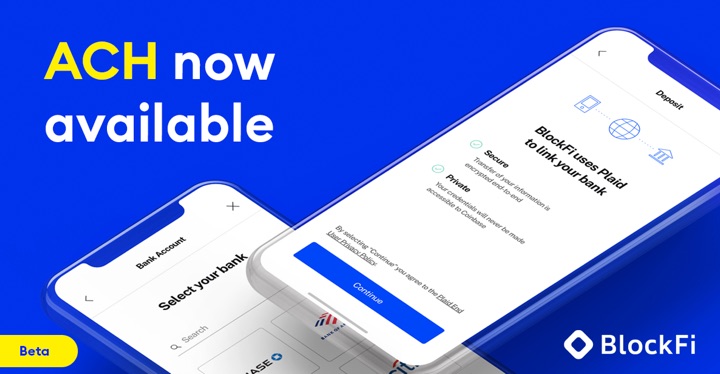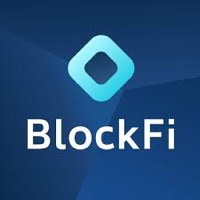 $250 promo still available, higher ACH limits now possible. BlockFi is a cryptocurrency platform that both pays interest on deposits and earns interest via cryptocurrency-backed loans. Right now, they are offering an up to $250 in bonus Bitcoin for new clients that sign up and fund a new BlockFi Interest Account. Here are the bonus tiers:
Deposit $25 to $249, Get $15 in BTC.
Deposit $250 to $999, Get $20 in BTC.
Deposit $1,000 to $4,999, Get $40 in BTC.
Deposit $5,000 to $9,999, Get $75 in BTC.
Deposit $10,000 to $19,999, Get $150 in BTC.
Deposit $20,000+, Get $250 in BTC.
This must be your first deposit, and you must make the qualifying deposits within 30 days of account opening. The required holding period is roughly 3 months. For example, if you participate in the promo anytime in December, your bonus will be paid out March 15th. This one is an affiliate offer and you should see the promo code partner250 auto-filled on your application.
New BlockFi clients who sign up with a specific partner referral code and fund their account during the promotion period (current calendar month ending at 23:59:59 UTC on the last day of the month) are eligible to receive a tiered bonus paid in BTC. To be eligible for the promotion, this must be your first ever deposit in the BlockFi Interest Account, and you must maintain a $25+ crypto balance through the 14th of the month at 23:59:59 UTC two and a half months from the month of eligibility in order to remain eligible. Eligible payouts occur on the 15th of every month on a rolling basis. If the 15th falls on a weekend, then the payout will occur by the end of the next business day (ex. If you participate in the promo in December, your bonus will be paid out March 15th). This offer is not valid in conjunction with any other current or past promotions and the promo code on the account will be used to determine promo eligibility for new accounts. The bonus will be paid in BTC based on the prevailing market price at the time of payment. Payout will be based on your average daily balance (USD equivalent) maintained through 23:59:59 UTC on the 14th on the month you are eligible to be paid on. Any withdrawals made before 23:59:59 UTC on the 14th of the month you are eligible to be paid out on may affect your tier. BlockFi Interest Accounts are available in most countries worldwide and all U.S. states other than NY. There is a maximum of one bonus per client. This offer is not valid in conjunction. Terms subject to change.
To fund larger amounts quickly, you can do a wire transfer from your bank account or USDC transfer from Coinbase/Coinbase Pro. Update: BlockFi now supports free ACH transfers direct from your bank account, and you can now transfer up to $5,000 every day. The funds are available to use instantly. Both deposits and withdrawals are fee-free. Linking is done via the Plaid platform, which means BlockFi never sees your passwords and your info is encrypted.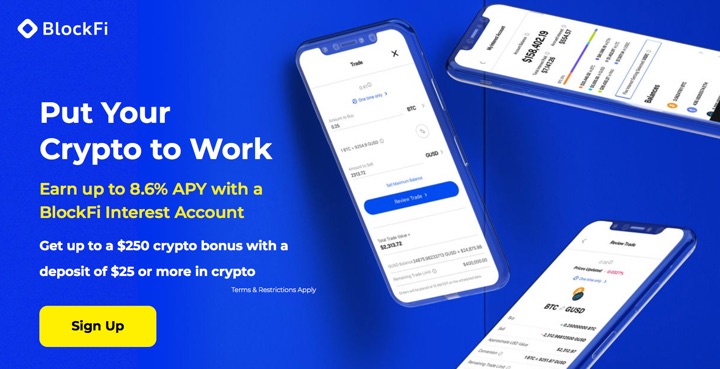 The BlockFi Interest Account (BIA) currently pays 6% APY on up to 2.5 Bitcoin (BTC) and 8.6% APY on USDC/GUSD stablecoins (subject to change on a monthly basis). There are no trade requirements, but when you deposit USD it will be converted to the GUSD (Gemini stablecoin) by default. (You can then use it to buy USDC or something else if you wish.) You could simply hold the stablecoin and earn interest until the bonus posts. Their overall business model is to earn a spread on the difference between lending out money and paying interest.
To earn interest on crypto, we lend assets to highly vetted and audited institutional counterparties. The interest we are able to pay is based on the yield that we are able to generate from lending, which directly correlates to the market demand in the space (I.e. what rate institutions are willing to pay to borrow specific crypto assets, as it varies from asset to asset).
BIA is available in 49 of 50 U.S. states (excluding New York). One free crypto withdrawal per calendar month and one free stablecoin withdrawal per month. After that, additional stablecoin withdrawals are $0.25 each.
Update 2: BlockFi has announced a new credit card that lets you earn 1.5% back in the form of BTC. You can only join the waitlist if you already have an open BlockFi BIA accounts, so I'd grab this bonus first. However, I'd rather get a better 2% cash back elsewhere and just buy BTC directly.
BlockFi is definitely one of the more well-established crypto sites, but you should do your own due diligence as it is not an FDIC-insured bank account nor a SIPC-insured brokerage account. I found that they were backed by some reputable firms including Fidelity Investments and Coinbase, with over $100 million raised so far. They use Gemini as their primary custodian, which is a licensed custodian and regulated by the New York State Department of Financial Services. As such, they will still require your name, address, and Social Security Number to verify the identity of all accountholders.
Bottom line. BlockFi offering up to $250 in bonus Bitcoin, depending on deposit size, for new clients that sign up and fund a new BlockFi Interest Account. They also pay interest on both Bitcoin and stablecoin.
Also see: $25 BTC Voyager promo.