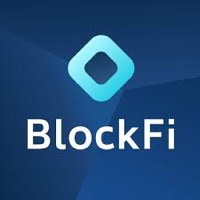 BlockFi is a cryptocurrency platform that both pays interest on deposits and earns interest via cryptocurrency-backed loans. Right now, they are offering an up to $250 USDC bonus for new clients that sign up and fund a new BlockFi account by September 25th. Here are the bonus tiers:
Deposit $500 to $999, Get $25 USDC Bonus.
Deposit $1,000 to $4,999, Get $50 USDC Bonus.
Deposit $5,000 to $9,999, Get $100 USDC Bonus.
Deposit $10,000+, Get $250 USDC Bonus.
You must deposit by 9/25/2020 and hold until 12/14/2020, for a minimum holding period of just under 3 months. $50 earned on $1,000 held for 3 months is equivalent to 20% APY. $250 earned on $10,000 held for 3 months works out to 10% APY. The bonus is paid in USDC, which is a stablecoin backed by real US dollars held in a bank account.
Update: I'm in the process of doing this promo myself, and discovered that you must either deposit cash by domestic bank wire or depositing your own crypto. For example, Ally Bank charges $20 for a domestic wire. You can also transfer over from another wallet like Coinbase, which lets you buy crypto from debit cards with a fee. You can later make a withdrawal via wire back to US dollars, but with a $5,000 minimum, or transfer to another wallet address. I thought this promo would be as easy as the $25 BTC Voyager promo, but it looks like a bit more work and perhaps not worth it for smaller amounts.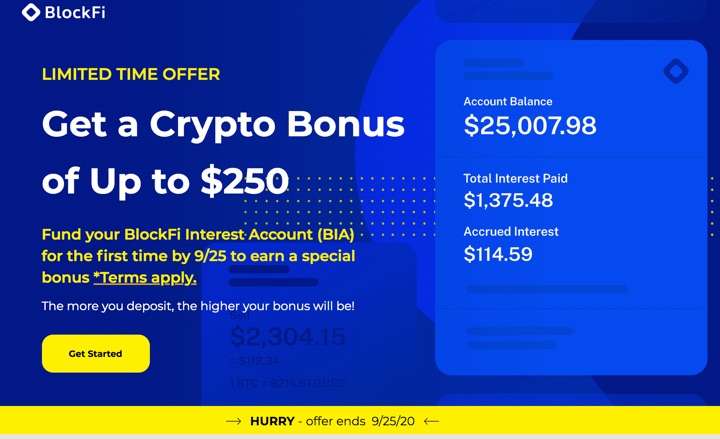 The promo code will be auto-populated as "getusdc" if you use the link above. There are no trade requirements, but when you deposit USD it will be converted to the GUSD (Gemini stablecoin) by default. (You can buy USDC or something else if you wish.) The good news is that both GUSD and USDC earn interest while waiting for the bonus to post. The BlockFi Interest Account (BIA) currently pays 8.60% APY on USDC and GUSD (subject to change on a monthly basis). Their overall business model is to earn a spread on the difference between lending out money and paying interest.
To earn interest on crypto, we lend assets to highly vetted and audited institutional counterparties. The interest we are able to pay is based on the yield that we are able to generate from lending, which directly correlates to the market demand in the space (I.e. what rate institutions are willing to pay to borrow specific crypto assets, as it varies from asset to asset).
BIA is available in 49 of 50 U.S. states (excluding New York). One free crypto withdrawal per calendar month and one free stablecoin withdrawal per month. After that, additional stablecoin withdrawals are $0.25 each.
BlockFi is definitely one of the more well-established crypto sites, but you should do your own due diligence as it is not an FDIC-insured bank account nor a SIPC-insured brokerage account. I found that they were backed by some reputable firms including Fidelity Investments and Coinbase, with over $100 million raised so far. They use Gemini as their primary custodian, which is a licensed custodian and regulated by the New York State Department of Financial Services. As such, they will still require your name, address, and Social Security Number to verify the identity of all accountholders.