Here's another interesting chart from a Businessweek article about a food-delivery start-up called Blue Apron. It shows how food costs have decreased dramatically as a percentage of total U.S. consumer spending from 1959-2013.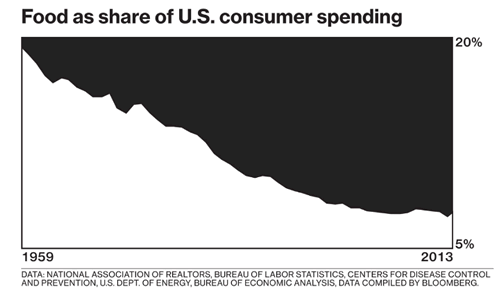 I've seen similar stats before, usually to support the argument that food really isn't that expensive and people can pay for higher-quality, healthier, more wholesome food. (Often by the people selling it.) Does allocating less than 10% of your budget to food mean that you are choosing to eating crap? Looking at this chart in isolation, I can see how you get there, but it isn't that simple if you look at the bigger picture.
To begin with, improvements in agricultural practices have made many commodities cheaper now than before. At the same time, it appears that food has been squeezed by other "needs" like shelter, transportation, and healthcare which now take up a much larger portion of our budget. Here is a more complete spending breakdown from this NPR article.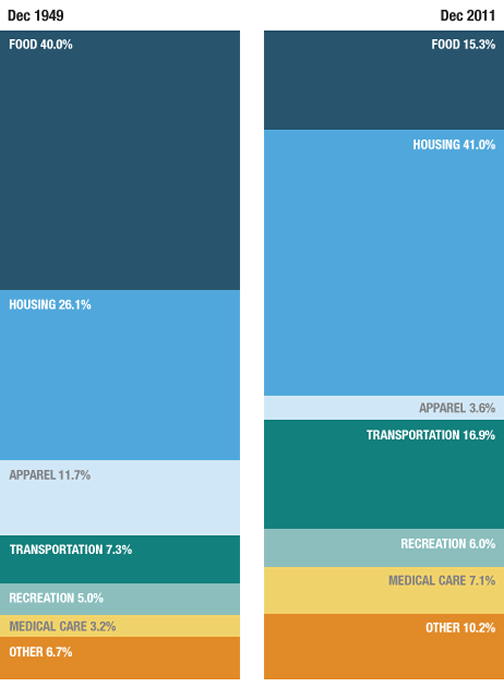 Source: Bureau of Labor Statistics, Lam Thuy Vo / NPR
None of this means that you shouldn't prioritize food quality. Budgeting is all about priorities. Many people live in houses that are bigger than necessary, drive cars that are newer and fancier than necessary, take vacations to exotic locations that would be unheard of in 1959, and so on. It's just another example that focusing on one little piece of data can be misleading.