Real estate prices have rebounded in many areas since the financial crisis, so much that some people are wary of another Housing Bubble. The S&P/Case-Shiller 20-City Composite Home Price Index measures the value of residential real estate in 20 metropolitan areas of the U.S. The latest update (PDF) shows that average home prices are back to their mid-2004 levels: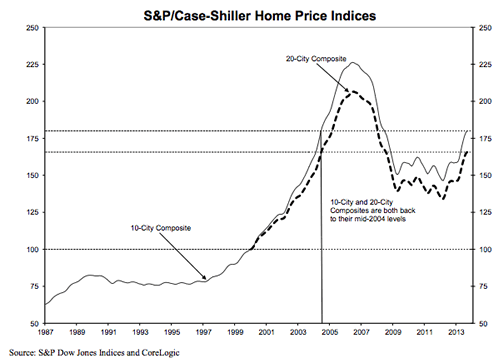 Measured from their June/July 2006 peaks, the peak-to-current decline for both Composites is approximately 20%. The recovery from the March 2012 lows is 22.9% and 23.6% for the 10-City and 20-City Composites.
While the recent rise does look sharp in nominal terms, the Bonddad blog took the 20-city index values and divided them by both average hourly income (blue) and by consumer inflation (red) over the same time period:
This latter chart would suggest that at least nationally there really is no sharp spike in housing prices. In our area, I felt like things were getting heated earlier in the year but then things subsided a bit with all the Fed taper talk and rising mortgage rates. I no longer have a horse in this game as I've paid off our mortgage with no desire to upgrade, but I do wonder how home prices will react if mortgage rates keep rising.