It's time for some morbid Halloween thoughts! Via an AAII interview with William Sharpe, it appears that the Nobel Prize winner and Sharpe Ratio namesake is working on a software project called Retirement Income Scenarios (blog and software site). It's not very sleek and I haven't spent much time with it, but one of the features is a longevity chart:
One of the things that people can do using the illustrative software program available through my retirement income blog is to type in their age and sex and their partner's age and sex and see the probabilities that both will be alive, that one will be alive or that the other will be alive year by year in the future, based on a set of actuarial tables. Most people don't want to look at such a graph, but I think it's important to do so. Most who do this react by saying "that's a long time, a really long time."
Sharpe wants people to realize they may live a long time and "scare" them into saving more, working longer, and/or being more careful with their portfolios. Here is the example chart given for retiring couple with male age 66 and female age 63. The green bars show the probability of both spouses being alive at a given year in the future. The blue bars show the probability of just the husband being alive, while the red the bars show the probability of just the wife being alive.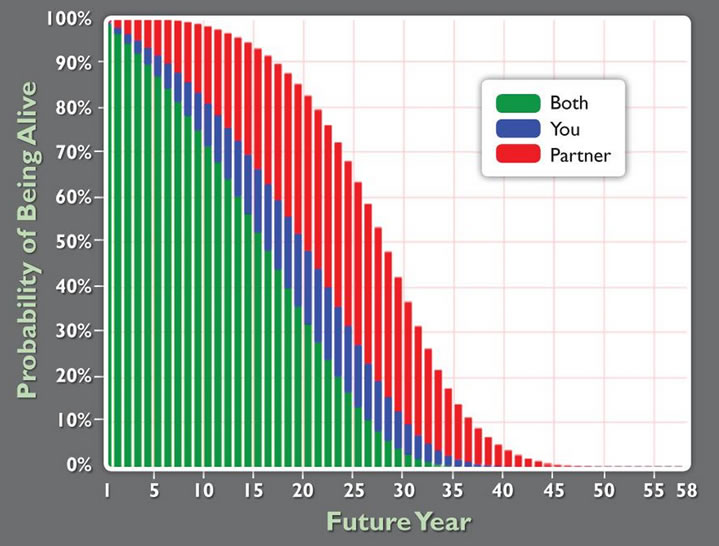 As you can see, there's a good chance (roughly 40%) that the woman will live another 30 years after retirement. That is a really long time.
So I started up the software and ran the number for something closer to our situation – both male and female currently 36 years old. Here's the longevity chart produced: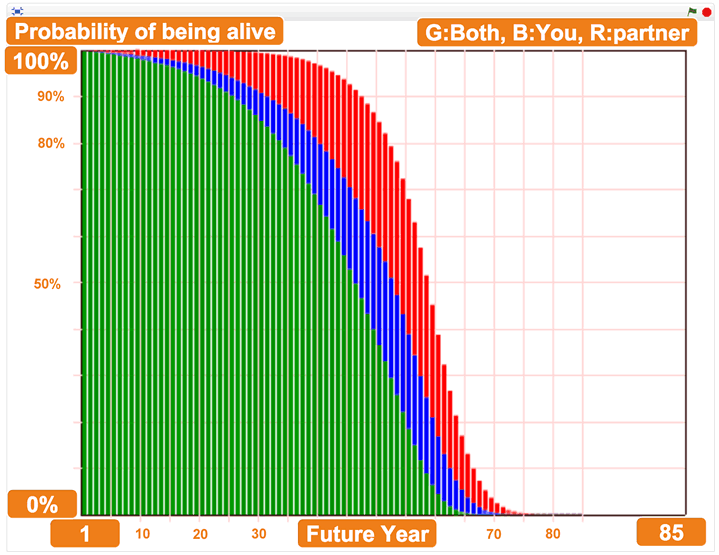 When I examine this chart, I have a different perspective. Being male, I notice that there is a roughly a 10% chance that I won't make it to age 66. There is a 20% chance (1 in 5) that I won't make it to 76. The idea of dying before I can actually enjoy retirement – that is scary to me. So yes people can "just" work longer, but also remember that your time on this Earth is limited and not guaranteed. There are many paths out there, but I don't plan on working hard until 65 or 70 and then hoping I can relax for while before I croak.