I've always been intrigued by those multi-camera home security systems that you see walking around Costco and Sam's Club, so when I was asked to review a similar unit I took the opportunity. Here is my review of the Zmodo 4 Channel Complete sPoE NVR Surveillance System w/ 1TB HDD, done from the perspective of a mainstream consumer who wants an affordable, DIY-installed security camera setup at home. I will not be nitpicking camera specs or exploring hacking options.
Cost
My specific package model is ZP-KE1H04-S-1TB, which currently has a list price of $349.99 with free shipping on Amazon. Note that this package comes with a 1 TB hard drive pre-installed, whereas other Zmodo packages do not include a hard drive so that you can size it as you like. (There are many grouchy online reviewers who didn't notice this fact.) This budget-friendly version has 4 channels (4 cameras recording at once), while more expensive models come with 8 channels or more.
What's In The Box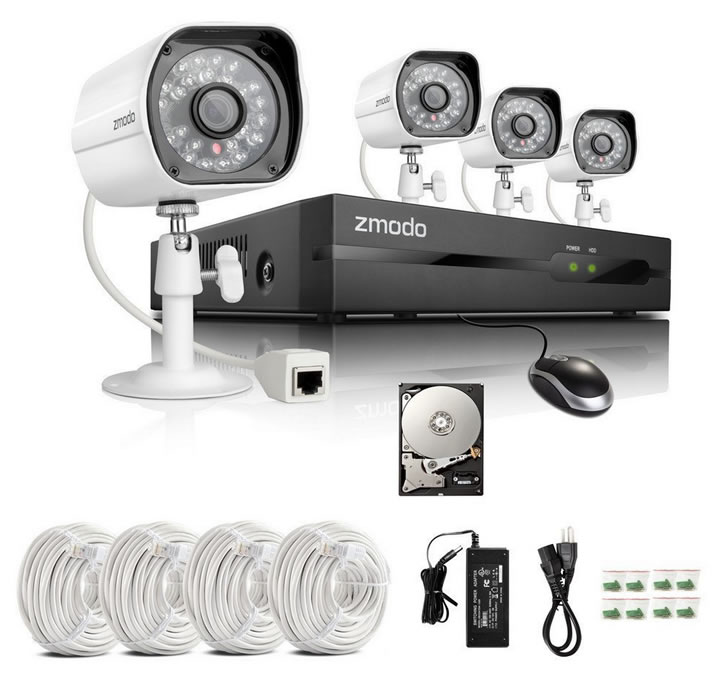 4-channel security NVR with a 1TB hard drive (ZP-NE14-S) with USB mouse
4 720p bullet IP network cameras (ZP-IBH15-S)
19V 3A power adapter, 3′ CAT5e network cable, two 50′ camera sPoE cables, two 80′ camera sPoE cables
What You Need To Supply Yourself
External display with VGA input and VGA cable.
A wireless router with one empty port (for remote viewing).
Always-on High-speed internet connection with minimum upload speed of >256kbps (for remote viewing).
Android (v.2.3 and up) or iOS (v.5 and up) mobile device (for smartphone app viewing)
Windows XP, Vista, or 7 + Internet Explorer 6 thru 11 (for desktop viewing).
Setup & Installation
If you buy this unit with the hard drive pre-installed, setting everything up is literally plug-and-play. (Of course, installing the hard drive just takes a screwdriver.) You simply connect everything according to the diagram below. Make sure everything is connected first and then turn on the unit, and the unit will automatically recognize the cameras and display them on your monitor. I was up and running (with the cameras on my coffee table) in under 10 minutes.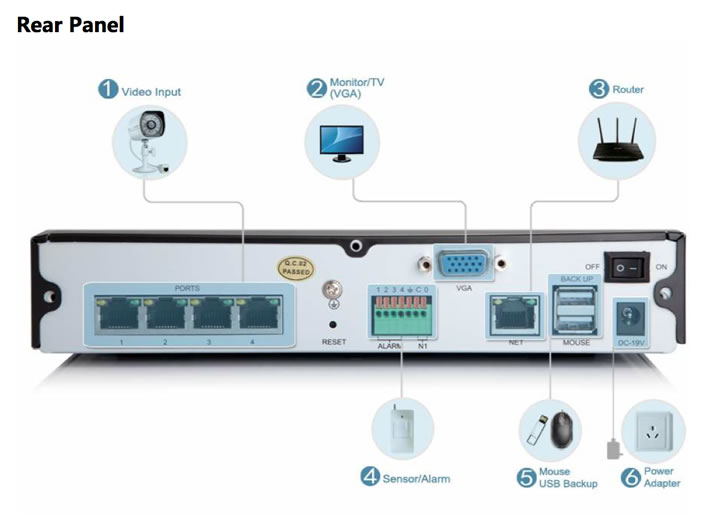 sPoE stands for simplified power over ethernet, which means that both power and video signal travel through one cable to the camera. You'll still need to drill holes and such for cable installation, but you don't need to route an additional power cord to every camera. Definitely easier, and many budget systems don't have this feature. Included are two 50 ft cables and two 80 ft cables. If you need more, you can use standard Cat5 ethernet cable. The only hard part is deciding where to position your cameras and installing the cables, which for me required crawling through the attic. I am also simply pointing one out the window.
The NVR (network video recorder) is like a simplified computer with a hard drive, mouse, ethernet port, and monitor port. You view live streaming video on your connected monitor, desktop computer over internet, or smartphone app via internet. You can only view stored video when on your home network. You can make backup copies to a USB flash drive. The NVR must connect physically to your router via ethernet cable.
More Impressions
I personally barely met the minimum requirements as the only VGA-capable monitor I have currently is our living room HDTV bought in 2007. Also, I have no Windows computers either, so I am restricted to either viewing on my home's only TV or via smartphone app. I wish they allowed more control via web browser.
I primarily use their iPhone app, which thankfully works fine on work WiFi or cellular 3G/4G data. You can link up your app via a quick QR code scan, but if your smartphone is already on the same WiFi network it also finds your cams automatically. Both are simpler than the traditional method of setting up port forwarding. I can enable motion detector alerts via the app as well as through e-mail. The motion detection is rather sensitive, and you'll get a lot of alerts if you aim it at windy trees. You can adjust the sensitivity on the main box, but not via app.
The 720p camera video quality is significantly better than my previous Samsung Smartcam indoor WiFi cameras. Daytime video has good colors and night video is crisp. Each camera as 24 infrared LEDs which improves illumination and are quite noticeable at night with a red glow (good for scaring off criminals?). Again, I can't compare directly with other HD cams but the picture is more than satisfactory. You can also toggle between high and low definition streaming.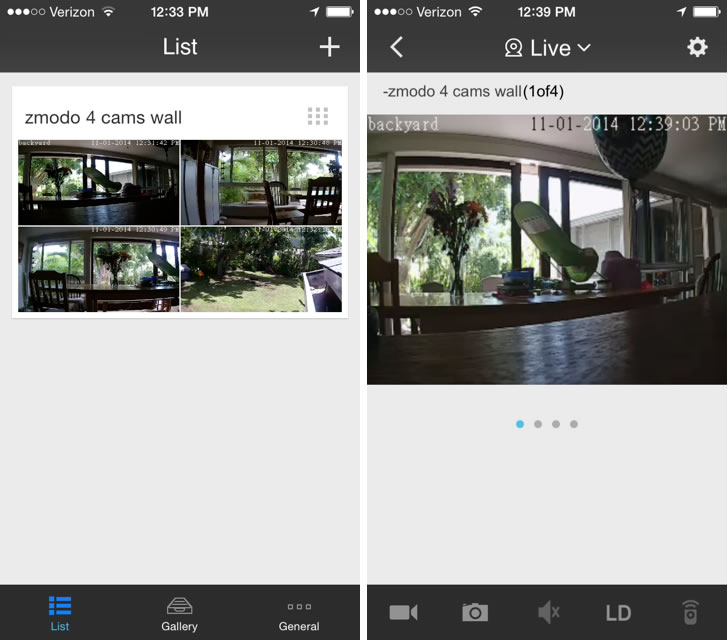 The IP cameras have an outdoor "weatherproof" casing that feels durable and high quality. They are IP-rated 65, which means it is dust-tight and can withstand low-pressure water jets from any direction. The box says the camera's rated operating temperature is 14 F to 122 F so I'm not sure about extremely cold climates. You mount the cameras with screws, so the only real tool you need is a drill and screwdriver.
With a 1 TB hard drive, I can keep 30+ days of past footage from all 4 cameras using their "intelligent" setting which increases the video quality when motion is detected but maintains a lower quality when there is no motion detected. The recorded footage is marked with times of motion detection, so that you can go directly there without viewing the entire thing.
If you compare this with the popular Dropcam Pro, that only comes with one indoor camera and costs $200. Dropcam also has easy installation and live streaming to smartphone, but no storage option unless you pay at least $10 a month for cloud storage. The video data travels via WiFi, but you still need a power cable so that's still one cable going to the camera. So the Dropcam offers cloud storage capability and easier portability, but this Zmodo package offers four indoor/outdoor cameras and 30 days of hard drive storage for no ongoing cost. I think the Zmodo is ideal for small business owners that want an affordable security option and the ability to review lots of past video, and also for homeowners who want permanent, outdoor surveillance and are willing to perform a DIY installation.
Pros
Quick setup and easier installation with power through ethernet cable.
Past 30+ days of video stored on included 1 TB hard drive.
Access live video feed from PC or smartphone.
Free in-app motion alerts.
Can connect with traditional alarm system.
Competitive pricing.
No ongoing monthly fees which add up to $100+ a year with other cameras.
Cons
Doesn't interact with other home automation protocols.
Can't remotely reposition cameras.
No Mac OS X support (iOS app available).
No cloud storage option.
I received this unit for free to review with no editorial restrictions and no other compensation. All opinions expressed are my own. You can interact with Zmodo and enter periodic contests via their Facebook page.