There are lots of reasons to retire early, but will it help you live longer as well? One study seems to suggest so, and is often cited in websites discussing early retirement. Dr. Sing Lin wrote a paper in 2002 called Optimum Strategies for Creativity and Longevity which studied the relationship between the age of retirement and the average of death for retirees of Boeing Aerospace. The results are startling: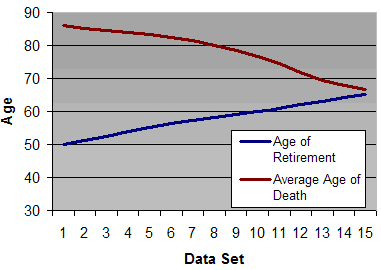 As the retirement age increases, the average age of death decreases almost linearly. The average person who worked until age 65 lived for only 18 months after retirement! In contrast, the person retiring at 50 lived for another 36 years.
There is some dispute as to the validity of this data, but I haven't found anything solid either way. The author does make some very bold conclusions, though:

…when you get older, you should plan your career path and financial matter so that you can retire comfortably at the age of 55 or earlier to enjoy your long, happy and leisure retirement life into your golden age of 80s and beyond. In retirement, you can still enjoy some fun work of great interest to you and of great values to the society and the community, but at a part-time leisure pace on your own term.

…On the other hand, if you are not able to get out of the pressure-cooker or the high-speed battleground at the age of 55 and ?have? to keep on working very hard until the age of 65 or older before your retirement, then you probably will die within 18 months of retirement.
However, a later study published in the British Medical Journal in 2005 refutes these findings. By studying the retirees of Shell Oil company, they found that those who stop working at 55 have nearly double the death rate of those who continue to work on until they reach 65.
Retiring early at 55 or 60 was not associated with better survival than retiring at 65 in a cohort of past employees of the petrochemical industry. Mortality was higher in employees who retired at 55 than in those who continued working.
Conclusions?
So on one hand we have "retire at 65 = dead within 2 years" and on the other we have "retire at 65 = twice the survival rate". To me, these conflicting studies simply show that trying to compare retirement age and mortality is, well… pointless? Does one necessarily have anything to do with the other? How many people retired early because of health reasons? Or because they were offered a special severance package? How many endured harsh working conditions, like being placed on an offshore oil rig vs. an air-conditioned office?
Maybe what is most important is our own individual personalities. For some people their work provides them with purpose, social interaction, and maybe even regular physical exercise. Not working might actually be bad for their health. Personally, I can see myself working to maintain my own investments and businesses past 55, but I really can't see myself "enjoying" taking orders from someone else for that long.