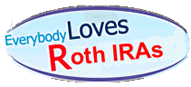 Back in May, legislation was passed that allows Traditional IRAs to be converted to Roth IRAs without any income restrictions in 2010. Previously, this conversion was only available to taxpayers with adjusted gross incomes of $100,000 or less, no matter if you're married or single. You even get two years to pay the taxes on the conversion. One of the more detailed articles I've seen written about this change is this USA Today article.
Another side effect of this new law is that it opens up a gaping loophole so that allows anyone to contribute to an Roth IRA, albeit indirectly:

Congress didn't change the income eligibility requirements for contributing to a new Roth IRA. Singles with AGI of more than $110,000 can't invest in a Roth; for married couples, the cutoff is $160,000. But lifting the conversion cap would provide a way for high-income workers to bypass those limits. They could invest in a non-deductible IRA, then convert it to a Roth.
So if you're making too much even this year, just contribute to a non-deductible IRA this year, and wait a little over three years until 2010 to roll it over. You'll have to pay taxes on your earnings, but that's fine since you're still only paying taxes once – and now your entire balance can grow tax-free and remains tax-free upon withdrawal.
What's the catch? Congress might change their minds before 2010:
Between now and 2010, lawmakers might decide that allowing high-income taxpayers to shelter millions of dollars from taxes isn't fiscally prudent. The provision is expected to raise $6.4 billion over the short term, as savers pay taxes to convert their regular IRAs to Roths. But the Tax Policy Center, a non-partisan think tank, estimates that over the long run, the provision will reduce tax revenue by $16 billion.

Mel Schwarz, legislative director for Grant Thornton in Washington, thinks there's a good chance lawmakers will revisit some of the provisions in the tax bill ? including the Roth conversion rule ? before they take effect.
In that case, you may be stuck with a non-deductible IRA, in which you'll have to pay taxes upon withdrawal again but the earnings will compound tax-free. That's may still be better than a taxable account if you stick all your bonds and REITs in there, so you won't be giving up the 15% long-term capital gains rate.