People tend to assume that getting a college education is a good financial investment. But a new Brookings report Should Everyone go to College? [pdf] finds that the actual value of a 4-year bachelor's degree can vary dramatically depending on factors such as field of study, type of college, graduation rate, and future occupation. As usual, I'm just plucking out the charts that I like from the study. As you read all this, remember that correlation does not mean causation.
The more selective the school, the higher the return on investment (ROI) as calculated by Payscale. Here the annualized ROI seems to average around 10%, while other studies have found it closer to 16%. Public schools tend have a higher ROI than private schools (remember that ROI isn't in absolute dollars). The bad schools are pretty bad, as Payscale found that 1 in 5 have a negative ROI over 30 years.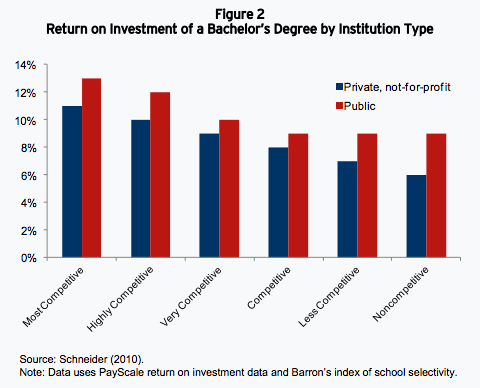 The lifetime earnings of a graduate also varies widely with the type of major and subsequent occupation: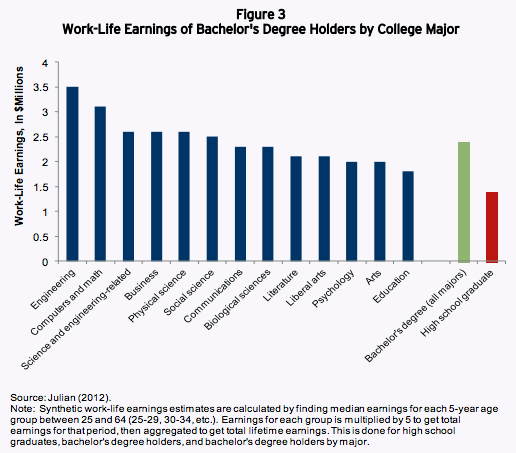 The above charts deal with graduates. Another issue is that less than 60% of students who enter a 4-year school even finish within six years. That means you spent lots of money on tuition with no diploma at all.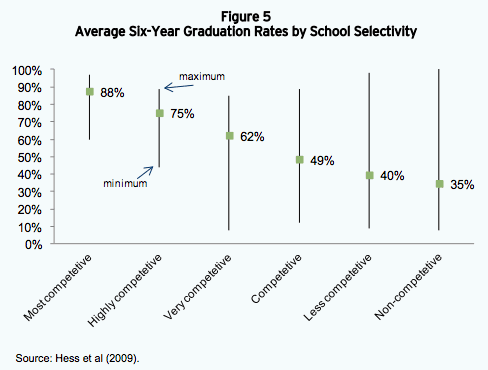 Basically, the Brookings report points out that some students actually end up worse off due to college, especially if they don't graduate. The authors suggest that this means you should enroll at the most competitive college that you can get into, as well as perhaps focus on the most lucrative major with which you find a fit. They also promote the idea of apprenticeships and vocational education as an alternative.