After looking at how other people and mutual fund companies choose their asset allocation, I'm a little conflicted. Both the Vanguard and T. Rowe Price mutual funds recommend holding nearly 80% in stocks at age 50. That's pretty aggressive in my book. To see why, let's look at some historical numbers.
Coincidentally, a commenter left me a link to a recent FundAdvice article about fine-tuning your asset allocation. I'm actually going to ignore the specific components of his portfolio and focus on the general trends instead. Let's just say it's well-diversified.
The article provides historical numbers (1970-2006) that compares risk versus return for portfolios ranging from 0% stocks to 100% stocks. Risk is represented by standard deviation, a measure of volatility.
Risk vs. Return For Varying Stock Percentages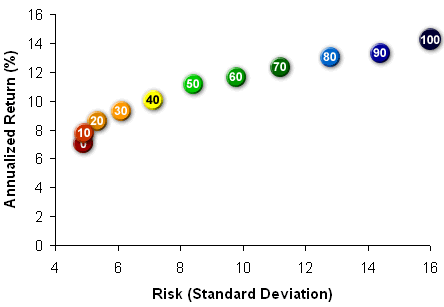 This is pretty consistent with a lot of other similar charts I've seen. You'll notice that the slope of the curve decreases as you move towards holding more stocks. Accordingly, if you compare the differences between successive dots, there risk gap grows larger and the return jump decreases. In other words, you are generally getting less return for each unit of risk as you keep adding more stocks.
Here is another risk-reward chart for increasingly aggressive portfolios.
Still, this chart really doesn't help too much either. Why not just go for the 100%? Instead of averages, let's focus on how bad it can get over the same time period (returns not annualized):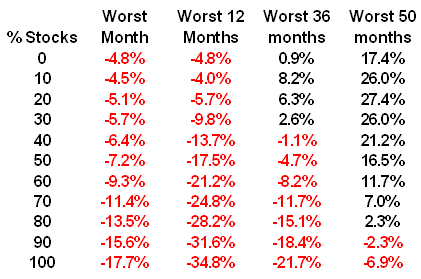 This second chart is more important than the first one, because you won't get any of the returns listed above unless you can "stay the course" through periods such as these.
It's really easy to say "Oh, 30% drop, no problem", but that's not the whole picture. Not only will stocks be dropping, but bonds may be skyrocketing. Imagine if bonds are returning 15% a year at the same time stocks are going down 15%. You will have what appears to be a way out! Personal finance magazines will be shouting "Bonds are back!" Cutting down on your stock exposure will become the "prudent" decision.
Going back to the 80% stocks at 50 years old… Can you imagine losing 35% of your portfolio in one year at 50 years old? I would freak out. This is why age matters, it's so much easier to shrug off losses when you know you won't need the money for another 30+ years.