One of the basic ways to adjust the risk and return characteristics of your investment portfolio is to decide what percentage to hold in stocks and bonds. This is another one of those hard questions for which there is no single best answer for everyone. You must take into account risk acceptance and time horizon amongst other factors.
An old rule of thumb is that your stock allocation percentage should be 100 minus your age. That is, a 30-year old should have 70% stocks/30% bonds, and a 70-year old should have 30% stocks/70% bonds. This was not just taken out of thin air, and has a basis from historical returns. As you near retirement, you want to have more bonds as that reduces overall volatility. More recently, others have altered this to a more aggressive "110-age" or even "120-age".
Members of the Diehards investment forum recently performed a informal survey of member's asset allocations versus their age, and here are the results: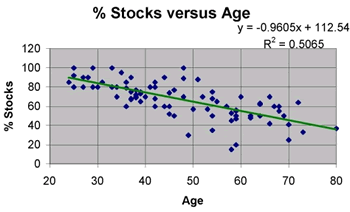 As you can see, there is definitely a lot of scatter in the data. However, if you made a linear fit, it roughly corresponds to a formula of stock percentage = 112.5 – age.
This made me curious – what about all those Target Retirement Funds? Their job is to decide an asset allocation that works for as many people as possible based on their retirement date. If I assume that people retire at 65 years old, here is what the asset allocation versus age looks like for three of the more popular fund families: Vanguard, Fidelity, and T. Rowe Price: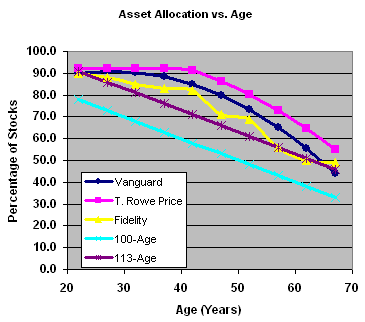 As you can see, the funds are actually pretty aggressive. (I covered previously how T. Rowe Price is more aggressive than Vanguard.) If one did force linear fits for all three fund families, it would correspond roughly to stock percentage of 119 – age. However, they don't really adjust linearly with time. If I use a 2nd order curve fit instead, I can make a little tool that estimates their stock percentages for any age:
None of this is investment advice, it's just an observation of what's out there. Next, I'll try to find some historical return and standard deviation numbers for another view of how to answer this question. What do you think of all this?