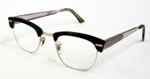 Here's an interesting entrepreneurial story from this month's SmartMoney magazine. Imagine that you work at LensCrafters making eyeglasses. You see the extremely large profit margins. You go home, buy the same equipment, and install it in your condo. You train some technicians to do most of the work. You call it EyeGlassDirect.com and start selling basic glasses with frame for $28. All while still working at LensCrafters!
I've been wearing glasses for over a decade, and I've never even thought about buying them online. The store seems to be legit, it has a 30-day unconditional exchange policy and a relatively clean Better Business Bureau report. The glasses include add-ons like UV and anti-scratch coatings that sometimes cost extra.
$28 seems like a great price for those without insurance or just looking for a basic set of glasses. I've always felt LensCrafters was mainly for those that had vision insurance. My current insurance only covers either contacts or glasses, so I choose to pay out-of-pocket for glasses every couple of years (and add it to my flexible spending account). I have high-index lenses, so I'll have to dig up my old Costco receipt to see if I should try these guys next time. Anyone use them before?
Added: You can find reviews for this and other online shops at GlassyEyes. I hate it when magazines mention bloggers but don't give out their websites.