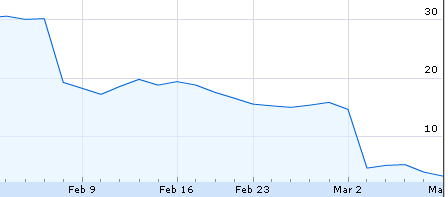 Although I should be paying more attention to the mortgage market, I've only gotten a chance to catch up this weekend. Above is the stock chart for New Century Financial (NEW), the second-largest subprime lender in the country. It basically dropped from $30 to $3 a share in a month, and is no longer taking any new loan applications. From this AP article:
"New Century, already the target of shareholder lawsuits, alarmed investors Thursday when it announced one of its financial backers had turned off the funding spigot. The company said last month it had failed to keep tabs on how frequently borrowers missed payments."
What? As a subprime lender, how is this fathomable? It looks like their fellow lenders haven't been doing so hot either:
Countrywide Financial Corp. (CFC), the largest U.S. mortgage lender, recently told its brokers to stop offering borrowers the option of no-money-down home loans.
WMC Mortgage, part of General Electric (GE), recently laid off 20% of its workers and is no longer taking no-down-payment loans.
Washington Mutual is no longer making no-down-payment loans.
Fremont General Corp. recently shut its doors completely, and is seeking a buyer for its subprime operations after getting a cease-and-desist order from the Federal Deposit Insurance Corp.
More than 20 other subprime lenders have stopped lending or gone bankrupt in the past year due to increasing defaults.
The New York Times just published this article titled "Crisis Looms in Mortgages". Some excerpts:
"What's happening is the front end of this wave of teaser-rate loans that are coming into full pricing," Federal Reserve Governor Susan Bies said on Friday. "So what we're seeing in this narrow segment is the beginning of the wave. This is not the end, this is the beginning."

?I guess we are a bit surprised at how fast this has unraveled,? said Tom Zimmerman, head of asset-backed securities research at UBS, in a recent conference call with investors.

Like worms that surface after a torrential rain, revelations that emerge when an asset bubble bursts are often unattractive, involving dubious industry practices and even fraud. In the coming weeks, some mortgage market participants predict, investors will learn not only how lax real estate lending standards became, but also how hard to value these opaque securities are and how easy their values are to prop up.

It is too early to tell how significant a role mortgage fraud played in the rocketing delinquency rates ? 12.6 percent among subprime borrowers… Some 35 percent of all mortgage securities issued last year were [subprime], up from 13 percent in 2003.
I can't help but predict repercussions from this fallout to the rest of the mortgage world. Bad loans » Stricter lending standards » People qualifying for smaller loans and thus less buying power » Lower housing prices?
Of course this starts just when I am starting to browse the MLS listings again. Let's see how badly I can mistime this thing…