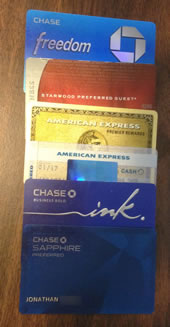 Perkstreet Financial started in 2010 as a plucky internet bank start-up that told us credit cards were dangerous and unethical, and you should use a trusty debit card instead. They offered attractive features like 2% cash back on all purchases and 5% cash back on special categories. But then new laws were enacted that limited debit card merchant fees, and Perkstreet took a hit to their main revenue source. On August 12th, they announced that they were shutting down. Oh, and all that cash back "Perks" that their customers earned? Gone with zero prior notice. *Poof*
Consistent with the terms of our Rewards Program Agreement, we have discontinued our perks program and cancelled all perks balances as of today, August 12, 2013.
Consistent with what terms? Wait, I thought you said you were trustworthy? They meant this part:
The Rewards Program and its benefits are offered at our sole discretion. We reserve the right to cancel, terminate, change or temporarily suspend the Rewards Program and to amend this agreement at any time without notice.
Translation: We can do whatever the %(#& we want. But you can't.
I never had an account with Perkstreet and didn't lose anything, but many people did. This is a good opportunity to talk about rewards programs in general. Some thoughts:
Businesses never actually plan to pay out all of their rewards. Airlines know that a huge chunk of the frequent flier miles they give out won't ever be redeemed. There will always be points lost, forgotten, or expired. With any rewards/points/miles/cashback program, always be on the lookout for expiration dates, tiers, limits, restrictions, and minimum redemption requirements that make them just a little bit more difficult to redeem.
Rewards can disappear or get devalued overnight, so avoid certain risk factors. As for that "we can do whatever want, whenever we want" clause, you'll find something similar with nearly every rewards program out there. To counter this, I would consider three things: profitability, reputation, and constant redemption.
Is the program profitable? The main reason that airline miles usually don't disappear with bankruptcy is they are an ongoing source of profit for the company and they want to keep us collecting them. Perkstreet's cash back program stopped being profitable after the debit card fee cuts, and in hindsight many people should have left then. If your rewards are essentially funded by venture capital, I'd definitely be wary. My blog archives are littered with start-ups that gave out nice promos and flamed out. I must have gotten 20 iPods over the years.
Is their reputation valuable enough? I have well over 100,000 Chase Ultimate Rewards points, but I don't really worry about them because Chase's reputation is (at least currently) more important than the outstanding value of the points. Chase (JPM) is publicly traded and worth over $200 billion dollars (making them still Too Big To Fail). They might erase some liabilities if they nuked all their points, but in the big picture they'd lose a lot of money by hurting their reputation. Same for American Express. But Perkstreet was a private, unprofitable company that couldn't even be sold off.
Even if the program is profitable and the company values its reputation, what can still happen is a gradual devaluation that slowly eats away at the value. Airline miles are notorious for this. For cash rewards, redeem the second you've reached the minimum cash-out amount. For points/miles, save up for a specific goal, and then spend them.
Even with these potential pitfalls, I still participate in many rewards programs. But I choose them carefully, redeem my points regularly, and am willing to put it some work to maximize their value. I view it as a profitable hobby, putting the cash earned towards retirement and "investing" the points/miles in awesome trips (Paris, Thailand, Peru) that create lasting memories.