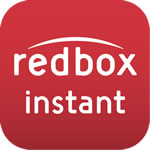 (Updated: Added details about newly-available Roku app.)
Redbox, famous for their $1 DVD rental kiosks ($1.20 now), recently launched a movie streaming service called RedBox Instant by Verizon. We like their kiosks and the fact that you can browse DVDs first and reserve them online before going to pick them up. There is currently a 1-month free trial that includes 4 free DVD rentals, so we paused our Netflix subscription (easy to pause, skip a month or more, and reactivate later) and signed up to try it out.
Redbox Movie Streaming Review
You can currently stream unlimited movies on the following devices:
New! Roku Box.
Computers via Web Browser (Silverlight, just like Netflix)
Apple iPhones, iPads, iPod Touch
Android phones and tablets
Xbox
Select LG and Samsung TVs & Blu-ray players
Google TV
In mid-August, Redbox released their Roku app. Roku is the most popular streaming device out there, so it's about time. I've been playing with it for a few days now and it's pretty solid. The user interface is very similar to that of Netflix. HD quality is available if your internet speed is fast enough, which is was for my standard-tier cable internet service. I also have a DIY media PC, but the Roku app is definitely much easier if you want to use your nice big HDTV. Works on Roku 3, Roku 2, Roku HD (model 2500), Roku LT (models 2400 & 2450) player, and the Roku Streaming Stick.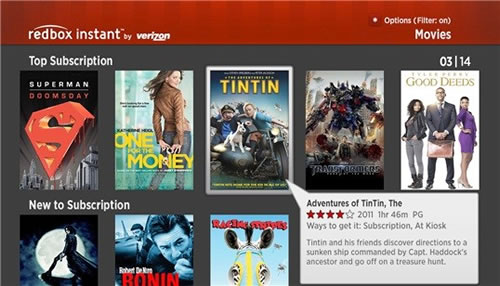 Regarding Apple TV, there is no native app yet but you can use Airplay to mirror what is showing on your iPad onto your TV. However, this method is not as crisp as full Airplay support.
On the iPad where I usually watch in bed, the movie quality was good; it also adjusted with my internet speed like the Netflix app. I could stop watching and/or switch devices and it would still remember where I left off.
The movie selection was okay, but definitely not as good as Netflix. There are no TV series available. It does have the same recent-release EPIX movies as Netflix and Amazon, such as Mission Impossible: Ghost Protocol, The Avengers, Hunger Games, Cabin in the Woods, and The Dictator. Their number of titles available is claimed to be 5,500+.
Redbox DVD Credits Review
Using up the credits was easy and simple. I'd just browse my specific local kiosks as usual and when making a reservation the cost would be $0 and I could pick it up any time by 9pm the next day. The disc is due by 9:00 pm the day after that, or you get charged for another rental day. Alternatively, you can just walk-up to a kiosk, pick your movies there, and tap on "Use Credits" at checkout. Swipe a linked credit card (just to verify identity) and you're done.
How to cancel your Redbox Instant Trial
It's easy to cancel your account online, no phone call or other hoops necessary. The 4 free DVD rentals are included in the free trial. Just log into your account, click on "My Account", then "Manage Subscriptions", and finally click on the blue "Cancel Subscription" link. Here's a screenshot to guide you: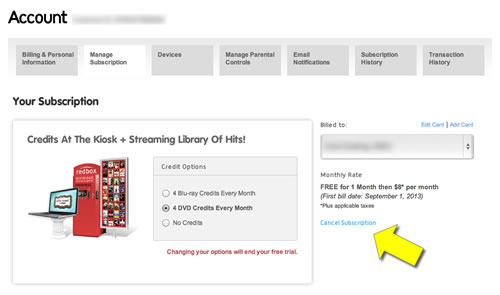 (click to enlarge)
You can also cancel within the Redbox Instant app. Go to Accounts (gears logo) > Account Type > Cancel Subscription.
Pricing
Here are the Redbox movies subscription options:
Streaming only = $6 a month
Streaming + 4 DVD credits per month = $8 a month (free 1-month trial only available with this option)
Streaming + 4 Blu-ray credits per month = $9 a month
Given that a normal DVD rental is $1.20 (Blu-ray $1.50) that makes the incremental streaming cost $3-$3.20 a month (assuming you took advantage of the credits). That makes it a much better deal for those who already use Redbox kiosks. Compare with Netflix, which costs $8 a month for streaming-only and $16 a month for streaming + 1 DVD out-at-a-time (mail-only).
Recap
For $8 a month, Redbox Instant offers 4 DVD rental credits per month + unlimited streaming. Redbox streaming on its own is not as good as Netflix in terms of movie selection or device support (though the new Roku app helps a lot). In my opinion, that makes it primarily attractive for people who like Redbox kiosks and/or enjoy the benefits of DVD and Blu-ray (earlier access, HD 1080p on Blu-ray). At only 3 more bucks a month on top of the DVD rental fees, you get an always-available streaming video service with some recent blockbusters and a limited library of classics. The 1-month free trial is a good way to test out the streaming service yourself, and you'll get 4 free DVD rentals as well.