It may qualify as market noise, but I admit to looking at the GMO 7-Year Asset Class Forecasts whenever they come out once a quarter (or more often now?). You can read it and other market commentary from Jeremy Grantham (whose opinions I respect) for free by registering on their website. The most recent one was released a few days ago: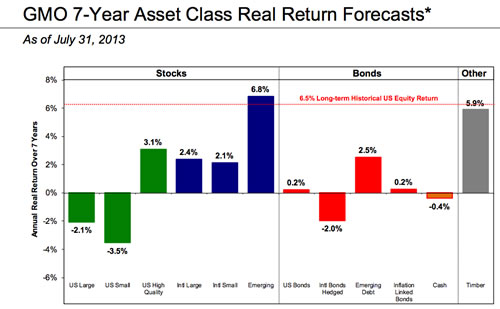 Source: GMO.com (click to enlarge)
Most of the time, I just like looking at these forecasts because they reinforce the idea that I should rebalance and buy whatever has been underperforming lately. Right now, that's Emerging Market stocks. I also see some logic in buying some Timber REITs as part of my REIT exposure, as I don't believe Timber REITs are included in the Vanguard REIT ETF (VNQ). Invest in tree farms!
I don't like the "High Quality US Stocks" category because it doesn't explicitly state what those are. How else will we know if the prediction was right?