Here's a 2013 year-end update of our retirement portfolio, which includes employer 401(k) plans, self-employed retirement plans, Traditional and Roth IRAs, and taxable brokerage holdings. Cash reserves (emergency fund), college savings accounts, experimental portfolios, and day-to-day cash balances are excluded. The purpose of this portfolio is to eventually create enough income on its own to cover all daily expenses.
Target Asset Allocation
This has been mostly the same for over 6 years, although I did make some slight tweaks in my last June 2013 update.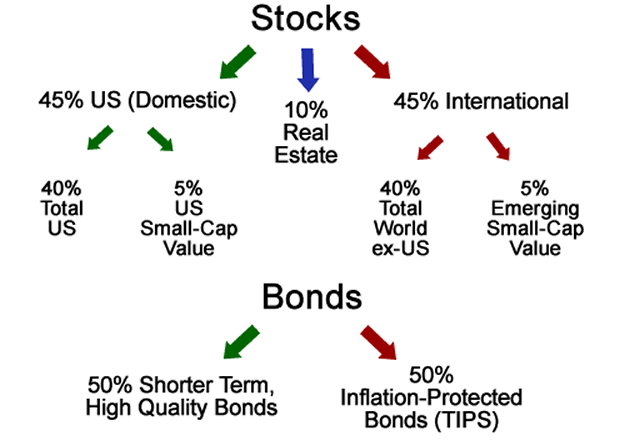 I try to pick asset classes that are likely to provide a long-term return above inflation, as well as offer some historical tendencies to be less correlated to each other. I don't hold commodities futures or gold because theoretically their prices should only match inflation. In addition, I am not confident in them enough to know that I will hold them through an extended period of underperformance (and if you don't do that, there's no point). 2013 turned out to be a tough year for both gold and commodities funds.
Our current ratio is about 70% stocks and 30% bonds within our investment strategy of buy, hold, and rebalance. With low expense ratios and low turnover, we minimize our costs in terms of paying fees, commissions, and taxes.
Actual Holdings
Here is our year-end asset allocation snapshot: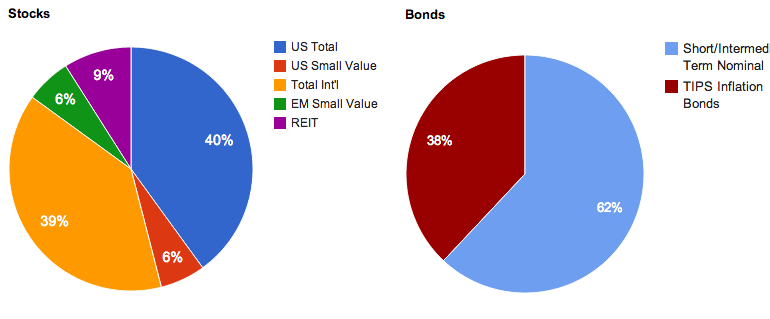 Stock Holdings (Ticker Symbol)
Vanguard Total Stock Market Fund (VTI, VTSMX, VTSAX)
Vanguard Total International Stock Market Fund (VXUS, VGTSX, VTIAX)
WisdomTree SmallCap Dividend ETF (DES)
WisdomTree Emerging Markets SmallCap Dividend ETF (DGS)
Vanguard REIT Index Fund (VNQ, VGSIX, VGSLX)
Bond Holdings
Vanguard Limited-Term Tax-Exempt Fund (VMLTX, VMLUX)
Vanguard High-Yield Tax-Exempt Fund (VWAHX, VWALX)
PIMCO Total Return Institutional* (PTTRX)
Stable Value Fund* (2.6% yield, net of fees)
iShares Barclays TIPS Bond ETF (TIP)
Individual TIPS securities
US Savings Bonds
The holdings haven't changed through the latter half of this year, just some additional purchases of existing funds.
In terms of performance, in general stocks had a great year while bonds pretty much went nowhere or slightly down. I don't expect everything to go up every year, not to mention my portfolio is bigger than I could have expected just a few years ago, so I can't complain. Here are some 2013 YTD total returns for selected representative funds as of 12/27/13:
Stocks
Total US VTI +33%
Total International VXUS +14%
US Small Cap Value DES +37%
Emerging Market Small Cap Value DGS -5%
US REITs VNQ +3%
Bonds
Short-term Muni VMLUX +0.5%
Intermediate-term Muni VWALX -3%
Inflation-protected bonds -9%