While dividend size is not the primary driver of my investment decisions, I still love seeing dividend distributions arrive in my brokerage account and consider them a critical part of my portfolio's total return.
Eddy Elfenbein of Crossing Wall Street created the chart below, plotting both the S&P 500 index value (blue) and its dividends (red). The vertical axes are scaled 50:1, so that when they cross the dividend yield is 2%. We see that while dividends don't always go up in the short term, they have been bouncing back and growing along with stock prices today (unlike during the dot-com boom).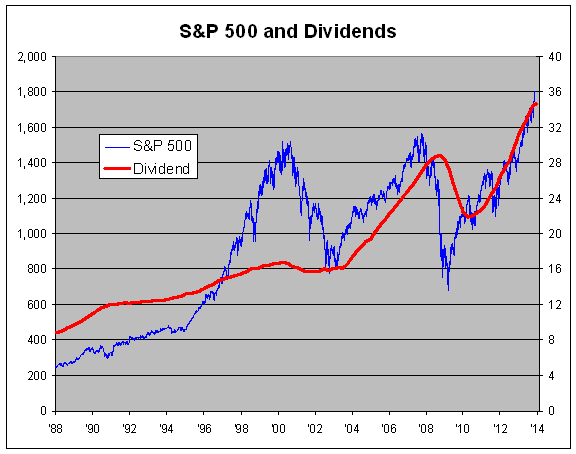 If you take a step back and look at the bigger picture, Multpl.com has a chart showing the dividend growth for the S&P 500 on a real (inflation-adjusted) basis since 1870. While the dividend yield remains at historical lows, the total amount of dividends still appear to grow faster than inflation over longer (10+ year) periods. Note the vertical axis is on a log-scale.