It has been a year since we paid off our mortgage early. I already discussed our reasons for doing so in that post, so I won't repeat them here. I also wrote a really long post on every single facet I could think of in the Pay Off Mortgage Early vs. Save More For Retirement debate. So I won't go into that here either.
But how do we feel a year later? Did we regret it? Let's take a look at what happened from March 2013 to March 2014.
Mortgage rates bounced around a bit but in general look to be about half a percentage point across the board. (Source: HSH.com) I probably couldn't get the same mortgage rate I had before anymore, but it would still be a pretty low rate historically.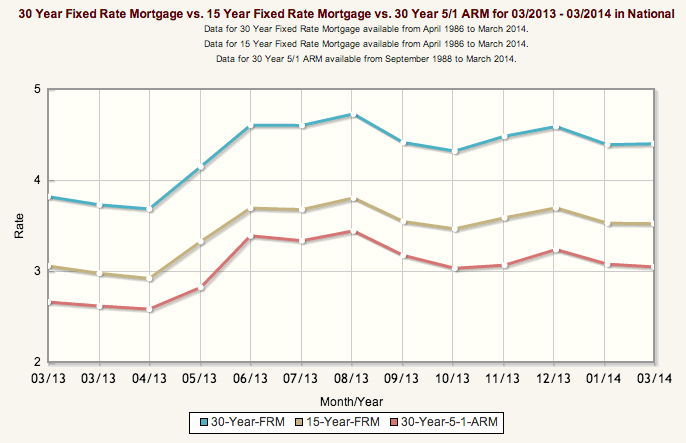 Investment returns over the last year were quite robust. If I model my portfolio roughly with the Vanguard LifeStrategy Growth Fund (VASGX) which is a low-cost index fund split roughly into 80% broadly diversified stocks and 20% broadly diversified bonds, my trailing 1-year return would be 15%.

Bond interest rates in particular went up overall. The 10-year Treasury Bond rate went from 1.8% to nearly 2.8% over the last 12 months. (Source: FRED)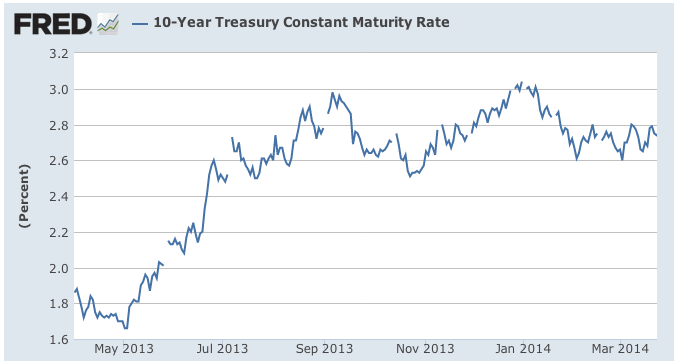 (Note I don't talk about the value of my home. This is because paying extra towards your mortgage early is not an additional investment in your house. You already own the house so you are already exposed to any change in home value regardless of your mortgage size. The mortgage is just another debt with an interest rate.)
So interest rates went up and we could have earned more money investing the money in my portfolio rather than pay down my 3% mortgage. Well, if I had a time machine maybe that would matter. But in reality it has been great. The lack of a mortgage reduced our monthly expenses significantly. We have been able to work less and got to spend an entire year watching our colicky baby grow into walking, talking, little person (meaning we are still more tired than ever before, ha) while still maintaining good cashflow and thus minimal financial stress. I'm not saying this applies to anyone else, but paying off our mortgage early has worked out well for us.