The mortgage interest tax deduction primarily helps the wealthy buy bigger houses rather than increase homeownership rates, according to a new study quoted by this WSJ article. The study found that such tax benefits have help increase the size of house by as much as 18% in affluent areas. Here is a graphic of the average annual tax savings from 10 major metro areas, broken down into households earning over and under $100,000 a year.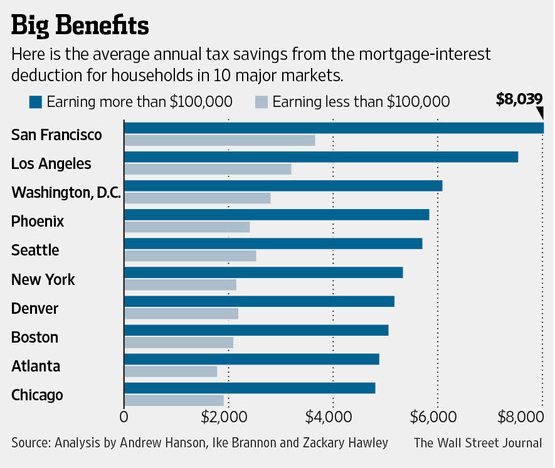 My non-political thoughts:
Don't overestimate the benefit of the mortgage tax deduction. It is easy to simply take your marginal tax bracket (say, 28%) and say that you're saving 28% on all your mortgage interest. But mortgage interest is only tax-deductible if you itemize, which encompasses just 30-40% of Americans. Even then, you should consider the incremental savings above the standard deduction.
Everyone can take the standard deduction, which in 2014 is $12,400 for married filing joints and $6,200 for single filers. Let's say your mortgage is for $250,000 and the interest rate is 4%. That's $10,000 in interest annually. So far, the married folks have no tax benefit at all! You would need a lot of other deductions like state income tax, property tax, and charitable contributions to push you over the hump. For example if you have $7,400 in other deductions, then only half of your mortgage interest ($5,000 out of $10,000) is actually saving you anything extra in taxes.
Accordingly, the study quoted above also found that homeowners with incomes above $100,000 were between three and four times as likely to claim the tax benefit as those earning less than $100,000.
Even if you do itemize and have a high income (~$254k for single, ~$305k for married filing joint), look up the new Pease Limitation which reduces the value of various deductions including mortgage interest, state/local taxes, and charitable contributions.
Be prepared that the mortgage interest tax deduction may go away. I'm not going to talk about whether or not it should go away, but realistically there is a chance that it will. If it does disappear, it think it would be done gradually to prevent a shock to housing prices. However, I wouldn't buy a house where I am depending on the tax deduction to maintain affordability. Tax laws change.
My prediction is that the mortgage interest tax deduction is still too popular to be completely nuked. Most likely there will be more legislation that nibbles around the edges like the mentioned Pease limitation that does a income phase-out or the total loan amount allowed will be reduced from the current $1,000,000 cap.