It's not just how much you save, it's when you save that matters. The best time to start is now. This is the power of compounding returns, which this single chart will help you visualize: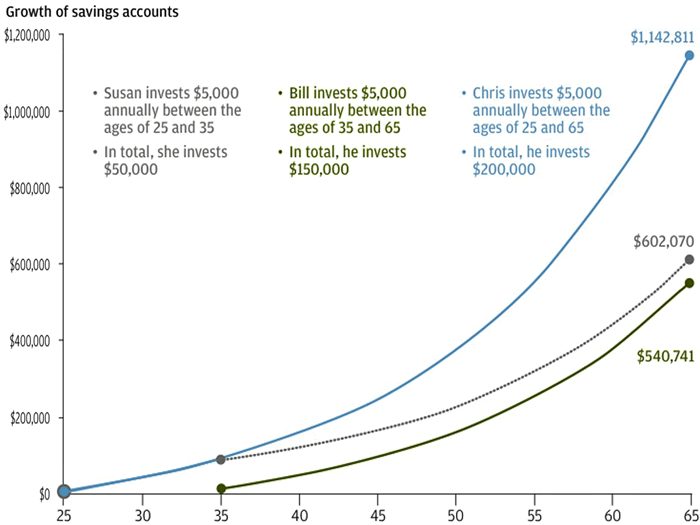 Susan (grey) invests $5,000 per year from age 25 to 35 ($50,000 over 10 years) and stops.
Bill (green) invests $5,000 per year from ages 35 to 65 ($150,000 over 30 years).
Chris (blue) invests $5,000 per year from ages 25 to 65 ($200,000 over 40 years).
You'll note that Susan still ends up with more money than Bill, even though he invests three times as much money over 30 years, all because Bill starts late. Susan and Chris start out the same, except that Susan stops after 10 years while Chris keeps going. Chris only invests $100,000 more than Susan, but ends up with $500,000 more money in the end. A 7% annual return is assumed.
The chart is from a JP Morgan slide deck for their asset managers, via Business Insider.
I'm also reminded of Warren Buffett and his Snowball biography – "Life is like a snowball. The important thing is finding wet snow and a really long hill."