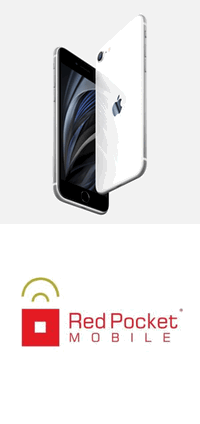 (One more iPhone SE deal! Apologies if these bore you; I have no more planned. They do also happen to be the cheapest MVNOs for anyone with an existing phone. Compare with Visible and Mint Mobile.)
Red Pocket Mobile is an MVNO with very competitive pricing that doesn't stick with any single network. You can choose which one you want: AT&T (GSMA), Sprint (CDMAS), T-Mobile (GSMT), and Verizon (CDMA). They aren't allowed to actually use the trademarked names on their pages, but it's an easy conversion. Note that the pricing for certain plans differs by the network chosen, and they often shift the pricing around with limited-time offers. If bringing over your own device and you want to switch networks, use their compatibility checker first.
Their current front page deal is the iPhone SE for regular price ($399) but with 6 months of free 3GB service. At $14/month, this could be seen as a $84 discount. However, if you proceed to the iPhone SE purchase page and agree to a 12 month or 24 month term, you can get alternative discounts on the phone itself instead as well as long-term discounts on the service. If you commit to 2 years, you can get the iPhone SE for $299 ($100 off) and have a choice of several monthly plans.
Example: iPhone SE + 2 years of Unlimited talk, text, and 3 GB LTE data = $299 + $336 = $635 for 2 years. This works out close to $26.50 per month. Breaks down to $12.50/month for the phone and $14/month for service. GSMA network (AT&T). You can upgrade to 7GB LTE for $20/month, 15 GB LTE for $30/month, or Unlimited LTE for $45/month. You could also downgrade to 1,000 minutes, unlimited text, and 1 GB LTE data for $10/month. After you reach your LTE data allotment each month, you still get unlimited data at slower 2G speeds. Looks like a little bit more if you finance it over monthly payments. UPS Ground shipping is free.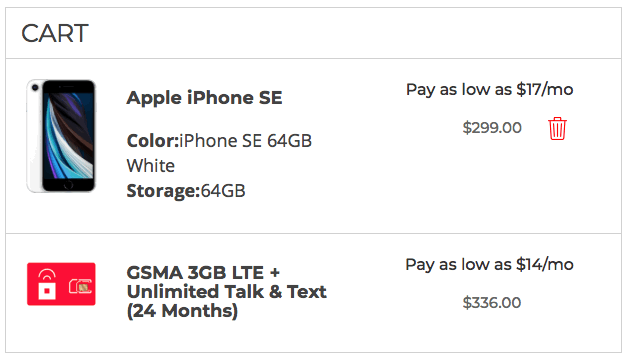 iPhone SE 2020 quick take. Apple's new $400 iPhone SE may be called a "budget" phone, but it is a "parts bin" phone that saves money not by using lower-quality ingredients, but instead by combining high-quality parts from other iPhones. If you're okay with the older body style (might be what you already have), this phone is a great value at $400 (64 GB). Check out the review from your favorite tech site, but here are the basics:
Screen/Body: iPhone 8. Same outer shape as iPhone 6/7/8. Retina 4.7″ screen. Touch ID (no Face ID).
Latest CPU: iPhone 11 Pro. Same A13 Bionic chip as inside the current iPhone 11 Pro that costs $1,000. These fast internals mean this phone won't be obsolete for 4+ years.
Camera: iPhone XR+. The hardware specs are like the iPhone XR which still costs $600 today. However, combined with the faster internals, Apple added software improvements to make it take better photos (better portrait mode, etc). Still an upgrade over the iPhone 6/7/8 cameras.