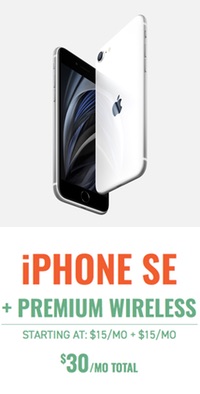 Mint Mobile has a new iPhone SE bundle promotion where you can get the new iPhone SE 2020 for $15/month + their $15/month cell service = $30/month total. You save $40 off the iPhone SE price and you lock in their bulk discount on data plans. Details below.
Apple's new $400 iPhone SE may be called a "budget" phone, but I prefer to think of it as a "parts bin" phone that saves money not by using cheaper, low-quality ingredients, but instead by RE-using high-quality parts from other iPhones. Check out the review from your favorite tech site, but here's a short take:
Screen/Body: iPhone 8. Same size as iPhone 6/7/8. Retina 4.7″ screen. Touch ID (no Face ID).
Latest CPU: iPhone 11 Pro. Same A13 Bionic chip as inside the current iPhone 11 Pro that costs $1,000. These fast internals mean this phone won't be obsolete for 4+ years.
Camera: iPhone XR+. The hardware specs are like the iPhone XR which still costs $600 today. However, combined with the faster internals, Apple added software improvements to make it take better photos (portrait mode, etc). The camera is still significantly better than iPhone 6/7/8.
If you're okay with the older body style (might be what you already have), this phone is a great value at $400 (64 GB).
$15/month for unlimited talk, text, and 3 GB of LTE data. We are in our second year of using Mint Mobile for cell phone service, an MVNO which runs on the T-Mobile network. One of us is on the $15 a month plan ($180 a year) for unlimited talk, text, and 3 GB of LTE data. The other pays $20 a month for unlimited talk, text, and 8 GB of data. You lock in this discount by paying for a year upfront.
In response to COVID-19, Mint Mobile offered their existing customers unlimited data (via free data add-ons) since March and going through May 14th, 2020.
New 2020 iPhone SE for $15/month. Mint Mobile combines these two into a new iPhone SE bundle promotion where you can also get the iPhone SE for $15/month for two years when you agree to also buy two years of service. This works out to $360 total for the phone, a $40 discount on the $400 retail price. You also get the free year of Apple TV+ streaming service included with all new iPhones.
End result: iPhone SE and unlimited talk/text/3GB data service for $30 a month total. Quite the frugal minimalist combo. You could also upgrade to the 8 GB data plan for $35/month total. This offer is for new Mint customers, although existing Mint customers can get 0% financing on the iPhone SE for $16.66 a month (you don't save the $40 over 2 years).