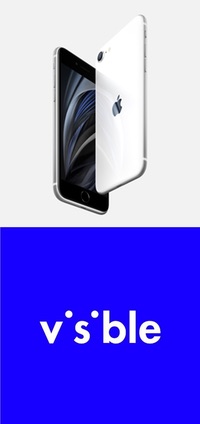 (After I wrote this up, the iPhone SE went out of stock. If you want this deal, I would check back regularly as it might be going to be in and out of stock for a while.)
Visible is one of multiple discount MVNOs that use the Verizon network, but they are the only one directly owned by Verizon (smart move, VZ). Their current promo gives you a $100 Prepaid card to bring over your own existing device after paying for two months of service. However, if you can also buy the iPhone SE 2020 for $384 + get a $200 Prepaid Mastercard after paying for two months of service. That's a net price of $184, although Visible may cost more on a monthly basis than you might pay with another MVNO like Mint Mobile. You should compare the all-in total prices over two years, along with other factors like data usage, network preference, and upfront costs vs. monthly payments.
Visible costs $40 a month and includes unlimited talk, text, and LTE data. Right now, the first month is $25/month. Verizon network. No contracts. Online customer service only. Mobile hotspot included for one tethered device at up to 5 Mbps max. Data may be slowed during network congestion. Visible also has a Party Pay feature where if you can join with a group of two, three, or four, you can get it down to $25/month. Each person manages their Visible account and their bill separately. You can join a Party at any time after becoming a Visible customer. Try the r/VisiblePartyPay subreddit to join with some random people on the internet (which appears to be within the rules).
iPhone SE 2020 quick take. Apple's new $400 iPhone SE may be called a "budget" phone, but I prefer to think of it as a "parts bin" phone that saves money not by using cheaper, low-quality ingredients, but instead by RE-using high-quality parts from other iPhones. If you're okay with the older body style (might be what you already have), this phone is a great value at $400 (64 GB). Check out the review from your favorite tech site, but here's my take:
Screen/Body: iPhone 8. Same size as iPhone 6/7/8. Retina 4.7″ screen. Touch ID (no Face ID).
Latest CPU: iPhone 11 Pro. Same A13 Bionic chip as inside the current iPhone 11 Pro that costs $1,000. These fast internals mean this phone won't be obsolete for 4+ years.
Camera: iPhone XR+. The hardware specs are like the iPhone XR which still costs $600 today. However, combined with the faster internals, Apple added software improvements to make it take better photos (portrait mode, etc). The camera is still significantly better than iPhone 6/7/8.
Here is the fine print on the promo. Just know that it is a rebate that you have to wait a bit for, as opposed to getting the discount upfront or via a monthly payment plan.
Buy an eligible device from us, pay for your first two months of service, and you'll get a Prepaid Mastercard Virtual Account sent to you via email. Purchase a device over $400 and you'll get a $200 Prepaid Mastercard Virtual Account. The Apple iPhone SE is also eligible for the $200 Prepaid Mastercard Virtual Account. Purchase a device under $400, but still more than $50, and you'll receive a $100 Prepaid Mastercard Virtual Account*. Certain Samsung devices are not eligible. Already have a phone you love? No problem. If it's compatible with Visible, just activate it, pay for two months of service, and we'll email you a $100 Prepaid Mastercard Virtual Account too.