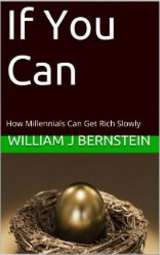 I just finished reading If You Can: How Millennials Can Get Rich Slowly, a free starter book on personal finance by respected author William Bernstein. As the PDF was only 16 pages long, you could probably finish it during a lunch hour or commute. I recommend it, but even Bernstein notes that his "inexpensive, small booklet" is more of a map than a complete book. Included were several book assignments to address specific topics. The idea is a young person could read all of these books over the span of a year or two and round out their financial education. In the meantime, start saving 15% of your income!
Here is the recommended reading list:
Bernstein thinks it tacky to recommend his own books, so let me do it. Back when I was a young lad with no investing knowledge (2004), my favorite introductory book was Four Pillars of Investing by William Bernstein. (The new edition is really just the old edition though, so buy a used copy of the old edition and save some money.) However, more recently I have heard good things about Investor's Manifesto which supposedly has less math-y stuff.
I've read all but two of these books and agree that they were all excellent building blocks of knowledge. Most if not all of these books have been around for a while and should be readily available for free at your local library. Even if you pay for them, the return will be well worth the investment. I added a new copy of all seven books to my cart and it came to under $100 at Amazon ($91.48 to be exact). Good graduation gift ideas?