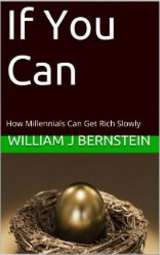 William Bernstein, author of several books on investing, has recently released a short book targeted at giving young folks a primer on saving for retirement. The title is If You Can: How Millennials Can Get Rich Slowly (Amazon link for the reviews). It costs the minimum 99 cents there, but you can also download it for free in PDF, MOBI ebook, and Amazon AZW3 formats. From his website:
For years I've thought about an eleemosynary project to help today's young people invest for retirement because, frankly, there's still hope for them, unlike for most of their Boomer parents. All they'll have to do is to put away about 20% of their salaries into a low-cost target fund or a simple three-fund index allocation for 30 to 40 years. Which is pretty much the same as saying that if someone exercises and eats a lot less, he'll lose 30 pounds. Simple, but not easy.

Not easy because unless the millennials learn a small amount about finance, they'll fall victim to the Five Horsemen of Personal Finance Apocalypse: failure to save, ignorance of financial theory, unawareness of financial history, dysfunctional psychology, and the rapacity of the investment industry.
The book is only 27 pages long, but there are also several "reading assignments" of other books to complete your education. Those other books are not free but they have all been around long enough that it shouldn't be too difficult to borrow a copy from your local library.