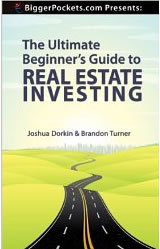 BiggerPockets.com is a popular discussion forum for real estate investors. Founder Joshua Dorkin and Senior Editor Brandon Turner have also written a couple of books about the subject. For a limited time, they are free in Amazon Kindle format.
I have not read either book (yet). According to the Amazon reader reviews, it looks like there is some solid beginner information inside both books along with numerous references back to their BiggerPockets website. I believe the first book is also available as pages on their website but it may be easier to read this way.
Download the books now while it is still free and read them later. As a reminder, you can read Kindle books on a web browser, Mac or Windows computer, tablet, or smartphone.