There are many ways to access real estate as an asset class – publicly-traded REITs like Realty Income, diversified REIT ETFs, private funds that hold baskets of individual properties, and many new fintech varieties. This Institutional Investor article discusses a new research article comparing public REITs and closed-end private equity real estate (PERE) funds:
In a new study published in the Journal of Portfolio Management's real estate issue, authors Thomas Arnold, David Ling, and Andy Naranjo found that, when compared side-by-side, real estate investment trusts outperformed U.S. closed-end private equity real estate, or PERE, funds by 165 basis points annually.
Here is another Nareit article about the study, where I noticed that the research was actually sponsored by Nareit. Here is a direct link to the study itself.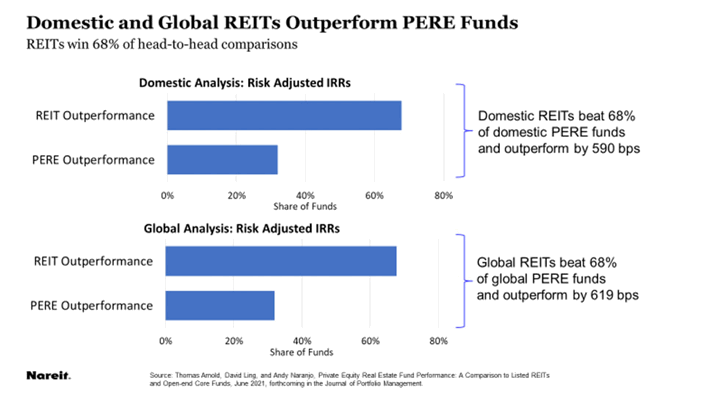 This other Institutional Investor article points out one of the "benefits" of private real estate funds – namely the fact that they don't offer accurate daily pricing. You should also consider this a "benefit" of personal homeownership – when things are scary, houses simply don't sell (instead of giving you a shockingly low price at that moment).
REITs, like any public security, are priced in real time. At the depth of the economic shutdown in March and early April, REIT investors imagined doomsday scenarios as commercial property and hotels sat empty and analysts forecasted that individuals would be unable to make rent payments for the foreseeable future. The price of REITs fell in line with that outlook.

In contrast, private real estate funds use other valuation methods, including appraisals — which depend on property transactions. Back in March and April, no real estate was changing hands to inform these valuations. As a result, the net asset values of private portfolios didn't reflect the carnage.
Real estate continues to intrigue me, but I've always stopped short of directly investing in a rental property because I want to avoid any management responsibility (or even the responsibility hiring a good property manager). To me, rentals are best considered a potentially-lucrative part-time self-employed business opportunity, with the greater upside and downside involved. I also love that I can completely ignore my portfolio for months at a time, and the dividends and interest payments still keep coming in.
I've experimented with other options like PeerStreet, Fundrise and others, but the vast majority of my real estate investments are still in the low-cost index ETF VNQ (Vanguard Real Estate ETF). As long as you are good at ignoring the price drops during the scary times, it has been a solid long-term holding. Per Morningstar, here is the growth of $10,000 invested in VNQ since inception 25 years ago (with dividends reinvested!):