Update January 2023: Public has been gradually making the bonus tiers higher and/or the bonus amount lower, but the offer is still alive. Please visit the offer page for the most current tiers and terms.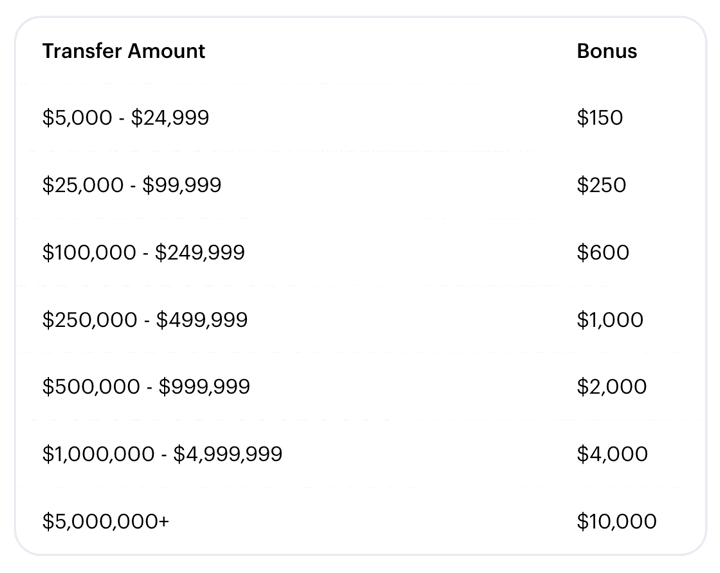 Updates 10/11/22: Here are a few updates to my original post below:
The promotion now has an expiration date of 12/31/22. Of course, they always reserve the right to end it even earlier.
There is also now a 12-month required holding period for the $1 million asset level bonus (still 6 months holding for all other levels).
I have successfully received my $2,000 cash bonus for a $100,000+ ACAT transfer. I chose this bonus because 2% of assets is a very good ratio. I had to wait the full month after the transfer initiation date. The ACAT transfer itself took about 5 business days from initiation date, which was a little concerning because there were a few days where the assets were gone from my Fidelity account and hadn't showed up at Public yet.
Public only has individual accounts (no joint), so you have to transfer individual accounts (no joint). Here was my process. I created a new individual brokerage account at Fidelity. I called Fidelity and asked them to transfer X shares of Y stock worth a little over $100,000 from joint to the new individual account. I transferred the entire new individual account to Public. Fidelity charged zero fees.
I e-mailed Public customer service a few times and they responded the same day within a few hours. I have been pleasantly surprised by the responsiveness and quality of replies.
I still have the same shares of the same stock, and I'll probably buy $2,000 more with this bonus during this little market drop. 🤑
Original post 9/7/22: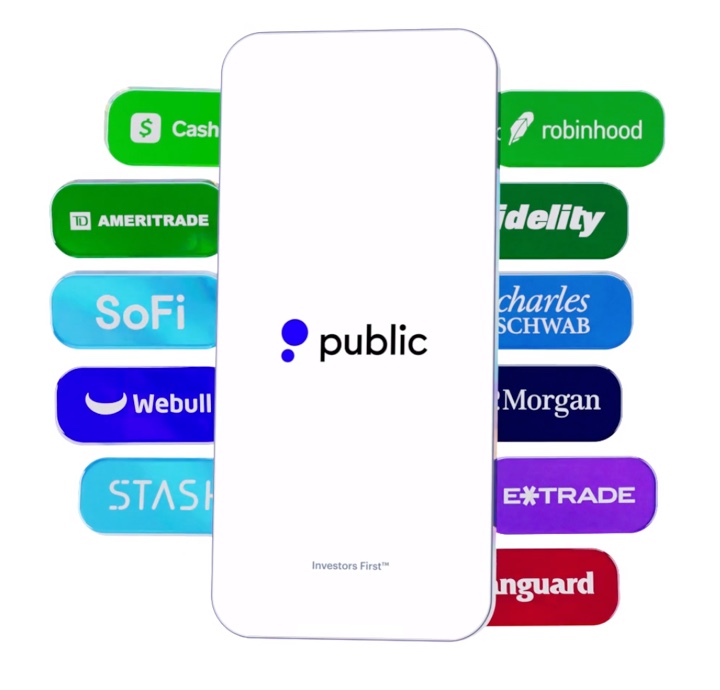 Public is a stock brokerage app that has a similar user interface to Robinhood, but has a big focus on the social aspect of sharing your trades and following the stock trades of other users (thus the name). $0 stock commissions, no account minimums, Android or iOS app-only (no desktop). Interestingly, Public no longer accepts Payment for Order Flow (PFOF). Right now, they are offering up to a $10,000 cash bonus to gather more assets via ACAT transfers, depending the value of assets that you move over. Found via DoC.
$150 with $5,000 – $24,999 in transferred assets
$500 with $25,000 – $99,999 in qualifying new money
$2,000 with $100,000 – $499,999 in qualifying new money
$5,000 with $500,000 – $999,999 in qualifying new money
$10,000 with $1,000,000+ in qualifying new money
$500/$2,000 is 2% of $25,000/$100,000, and $10,000 is 1% of $1,000,000. As a percentage of assets transferred, these are relatively high bonus amounts at those asset levels. The minimum holding period is 6 months, per their terms:
*Cash bonus will be applied to qualifying accounts one (1) month after the transfer initiation date. Transferred funds must stay in your Public account for at least 6 months or bonus will be revoked.
As with all similar ACAT transfer offers, you can transfer over your existing stock holdings and the cost basis should also transfer over with no tax consequences. You just keep your same shares of Apple or index ETFs at a different broker. If you want to hold cash, you could also own things like Treasury bill ETFs or ultra-short term bond ETFs and earn interest on top of the bonus.
Public will also cover your former broker's outgoing ACAT transfer fee (usually around $75) if you transfer at least $500:
Public charges no fees for incoming transfers. If your current brokerage charges you on the way out, we'll even cover the fee if your incoming account is over $500.
Public appears to have created their own tool with a nice user interface to transfer the assets, but on the backend they use the same underlying clearing firm as many other brokerage apps (including SoFi, Stash, Betterment, WeBull, and formerly Robinhood), namely Apex Clearing. More details from their bonus FAQ:
Download the Public app and once your account is set up, go to your Settings. In the "Account" section, you'll see an option to transfer your stocks to Public.
This offers appears to be available to both new and existing Public users. I am considering doing a partial ACAT transfer of $100,000 in ETFs as that looks like the sweet spot.
New customer to Public? Their referral program offers "free stock" worth between $3 and $300 if you open with a referral code and deposit $20+ (referrer also gets whatever you get). My referral code is mymoneyblog which you can enter on the second page of the transfer promo link above. Thanks if you use it! Alternatively, the shopping portal Swagbucks is offering $16 worth of Swagbucks points right now. If you go the Swagbucks route, it looks like you should first open the account and then go for the transfer bonus.
Side note: If Public doesn't make money by selling your trade flow, how do they make money? For one, it earns interest on your idle cash by paying you tiny interest as many other brokers do. For another, it lends out your shares of stocks to short-sellers (and keeps all the interest). The strange thing here is that that it appears to do so by default, whereas most other brokers you must opt-in (and they split the interest with you). However, you can opt out at any time:
You may opt out of Apex's Fully-Paid Securities Lending Program at any time by sending an email to us at support@public.com with "Securities Lending Opt-Out" in the subject.
I would opt out, as if they lend out the shares and aren't paid back, there is counterparty risk involved if the company fails. I am not always opposed to Fully Paid Lending, but (1) I want a share of the profits and (2) I want the broker to be rock-solid financially. Read more at Loan Out Your Stocks For Extra Interest? Fully Paid Lending Income Programs. I e-mailed Public and they replied the same day with confirmation:
Thank you for reaching out! I have added you to our opt-out list. Please allow 24-48 hours for your request to be fully processed by our clearing firm.