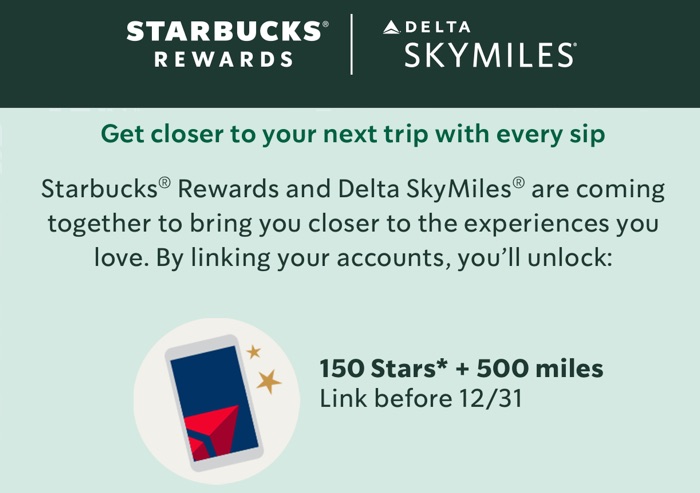 Delta Airlines is partnering with Starbucks, including with a account linking promo worth an easy 500 Delta Skymiles and 150 Starbucks Stars (worth a free drink of any size or breakfast/snack item):
150 Stars and 500 miles when you link before 12/31/22.
Double Stars on Delta travel days
1 Delta mile per $1* spent at Starbucks (excludes taxes and gratuities)
Fine print on the bonus (you need to link and then make a purchase for the 150 stars):
*Account Linking Bonus: Link your SkyMiles account and Starbucks Rewards account through DeltaStarbucks.com between October 12, 2022 and December 31, 2022 to earn (a) 500 miles and (b) if you make a Qualifying Purchase, 150 Stars. "Qualifying Purchase" means any purchase at a participating Starbucks Store of food, beverage(s), and/or merchandise, excluding purchases of alcoholic beverages, Starbucks Cards and Starbucks Card reloads. Miles will be deposited into your SkyMiles account within 10 business days of linking, and Stars will be deposited in your Starbucks Rewards account within 2 business days of the date of your first Qualifying Purchase.
Easy $5 worth of Skymiles and free drink. Looks like the website is overwhelmed right now, but I'll try again later.