Firstrade is a broker unique in that they include $0 online stock/ETF trades, $0 options + $0 per contract, and $0 mutual fund trades (including no-load). Most of the major brokers charge per options contract and for no-load mutual fund trades. They are also unique in that they originally started out catering to the Chinese-speaking community in New York, and thus offer a Chinese language version of their site (Simplified and Traditional) and Chinese-speaking customer service reps (Mandarin and Cantonese). Right now, the are offering up to a $4,000 ACAT transfer bonus depending on the size of transferred assets:
$50 with $5,000 in transferred assets or deposits
$100 with $10,000 in transferred assets or deposits
$300 with $25,000 in transferred assets or deposits
$700 with $100,000 in transferred assets or deposits
$1,500 with $500,000 in transferred assets or deposits
$3,000 with $1,000,000 in transferred assets or deposits
$4,000 with $1,500,000 in transferred assets or deposits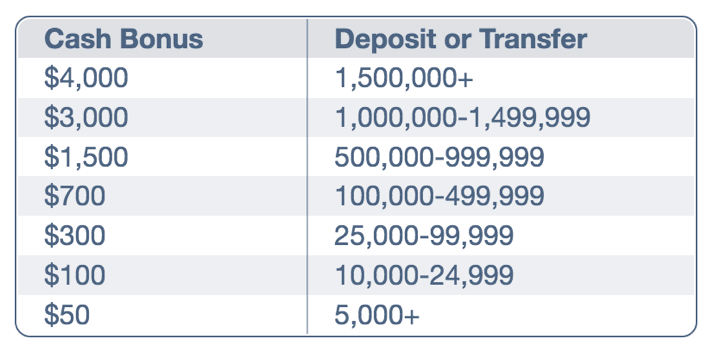 Offer details.
New taxable and IRA accounts are eligible.
Firstrade will also cover up to $200 in ACAT transfer fees and up to $25 in wire transfer fees.
You must keep the assets there for at least 12 months.
Must open by 11/10/22 and fund within 30 days of account opening.
Offer valid for new Firstrade Brokerage or IRA accounts opened from 10/10/2022 to 11/10/2022 and funded within 30 days of account opening with $5,000 or more. To be eligible for the bonus, the new account must be opened using the specific "Open an Account" button associated with this promotional offer. Limit one offer per account type.

This offer is open to U.S. residents only and excludes current and former Firstrade account holders who have closed their accounts within the past 90 days. This offer is not transferable.
Important: The account must remain open for 12 months with the minimum funding or assets required for participating in the offer (minus any trading losses), or Firstrade may charge the account for the cost of the offer at its sole discretion. Firstrade reserves the right to restrict or revoke this offer at any time.
Commentary. This is an overall solid promotion, although right now other offers may be slightly better at any given tier amount. For example, the Public offer of $10,000 for $1,000,000 in new assets is still tops. However, I would classify Firstrade as a much more established and reputable broker with a history of solid customer service than the Public app. (I know that some people had some concerns about moving a million dollars of assets to a little-known startup.) Also, Public doesn't allow IRAs, which is where a lot of people have their assets held. The highest ratio they offer is the $300 for $25,000 tier at slightly over 1%. Historically, paying out a 0.3% ratio ($3,000 for $1,000,000 transferred) is not bad at the $1,000,000 tier. Note the 12-month minimum holding period.
Reminder: Brokerage Asset Bonuses vs. Bank Deposit Bonuses. There is an important difference between brokerage asset bonuses and bank deposit bonuses. A bank deposit bonus pays you extra interest for holding a certain amount of cash with them. A brokerage asset bonus requires you to transfer over your existing investments like index funds, individual shares of Apple or Berkshire Hathaway, individual shares of REITs, and so on. You still own the asset and it's still doing its thing. The brokerage bonus is on top.
In this example, if you really wanted to compare it directly against an interest rate, you should at least assume you will be holding a T-Bill ETF like GBIL or BIL (current SEC yield roughly 2.5%) and then adding this bonus on top of the yield. However, the real benefit for patient, long-term investors that you can just keep your existing assets and essentially get paid a DIY "management fee".