Here's an update on my investment portfolio holdings for Q3 2014. This includes tax-deferred accounts like 401(k)s and taxable brokerage holdings, but excludes things like physical property and cash reserves (emergency fund). The purpose of this portfolio is to create enough income to cover all of our household expenses.
Target Asset Allocation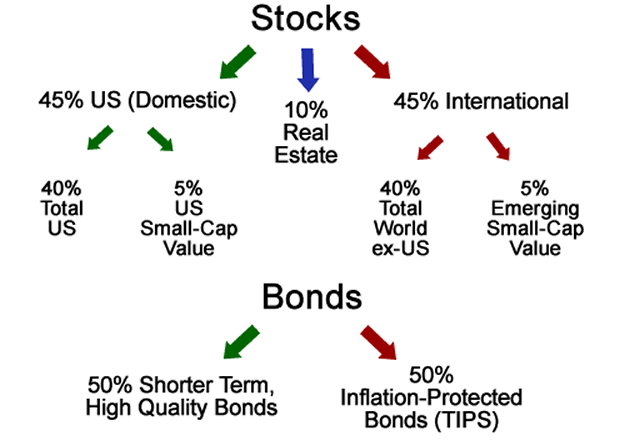 I try to pick asset classes that will provide long-term returns above inflation, regular income via dividends and interest, and finally offer some historical tendencies to balance each other out. I don't hold commodities futures or gold as they don't provide any income and I don't believe they'll outpace inflation significantly. In addition, I am not confident in them enough to know that I will hold them through an extended period of underperformance (don't buy what you don't understand).
Our current ratio is about 70% stocks and 30% bonds within our investment strategy of buy, hold, and rebalance. With a self-directed portfolio of low-cost index funds and low turnover, we minimize management fees, commissions, and taxes.
Actual Asset Allocation and Holdings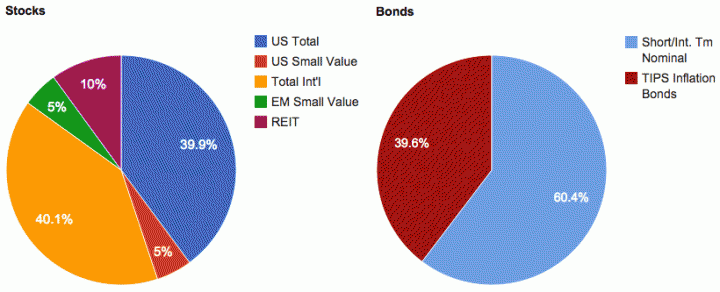 Stock Holdings
Vanguard Total Stock Market Fund (VTI, VTSMX, VTSAX)
Vanguard Total International Stock Market Fund (VXUS, VGTSX, VTIAX)
WisdomTree SmallCap Dividend ETF (DES)
WisdomTree Emerging Markets SmallCap Dividend ETF (DGS)
Vanguard REIT Index Fund (VNQ, VGSIX, VGSLX)
Bond Holdings
Vanguard Limited-Term Tax-Exempt Fund (VMLTX, VMLUX)
Vanguard Intermediate-Term Tax-Exempt Fund (VWITX, VWIUX)
Vanguard High-Yield Tax-Exempt Fund (VWAHX, VWALX)
Vanguard Inflation-Protected Securities Fund (VIPSX, VAIPX)
iShares Barclays TIPS Bond ETF (TIP)
Individual TIPS securities
U.S. Savings Bonds (Series I)
Notable Changes
Last quarter, I had sold my PIMCO Total Return fund holdings. Well, that was lucky on my part with all the recent Bill Gross drama. I decided to sell my stable value fund holdings too as I needed rebalance into more TIPS bonds and I was now able to buy TIPS inside my employee retirement plan using the Schwab PCRA brokerage window. All of our tax-deferred space is now taken up with TIPS and REITs, so the rest of my bonds are tax-exempt munis and savings bonds.
Otherwise, not much new, I rebalanced with new money and reinvested dividends. By this, I mean I don't automatically reinvest dividends into the same mutual fund or ETF that generated them. Instead, they accumulate for bit and then I reinvest them in whatever asset class has been lagging recently. This also makes fewer tax lots for my taxable accounts.
That's it for portfolio holdings. In a separate update post, I will update the amount of income that I am deriving from this portfolio.