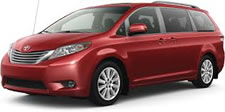 In the October 2014 issue of Car and Driver magazine, they have an article "Space Exploration" comparing the space-efficiency of "hatchbacked" vehicles – hatchbacks, wagons, crossovers, SUVs, vans. Their definition of space efficiency was carrying capacity compared to the amount of ground a vehicle occupies. Specifically, the maximum seats-down cargo volume divided by footprint (length times width). Trucks don't count.
I can't find a version of the chart online, so here is my rundown of the findings:
The most space-efficient vehicles were cargo vans usually bought for commercial use. Not surprising, as these are often seen as airport shuttles. Examples are the Ram Promaster, Mercedez-Benz Sprinter, and Ford Transit. The extended body, high roof versions of these vans have ratios as high as 3.69.
After that, the minivans rule: Toyota Sienna 1.38, Honda Odyssey 1.33, Chrysler Town & Country 1.30. (Nissan Quest was only 1.00.)
Huge SUVs are next: GMC Acadia 1.06, Ford Expedition 1.08, Toyota Sequoia 1.06.
After that, things get more interesting. The Scion xB is 0.86 is actually a bit better than the Toyota Highlander at 0.83 and the Mercedes GL at 0.79. The Honda Fit is 0.71, on par with the Jeep Grand Cherokee at 0.68 and Audi Q7 at 0.67. Relatively disappointing small cars include the Nissan Juke 0.46, Ford C-Max 0.49, and Kia Sportage 0.62.
Want electric? The Mitsubishi i-MiEV is 0.80 while the Nissan Leaf is 0.35 and Chevrolet Volt is a paltry 0.12. I would note the MiEV is tiny though, it looks like a golf cart driving down the road.
As you might expect, in general tall and boxy shapes make for high numbers. Space-efficiency isn't everything, but it can be an important factor to consider if you have a growing family or certain hobbies. It would have been nice if they also used the alternative definition to be cargo volume divided by base retail price (space per dollar).