One of the most popular posts on the Vanguard blog is My one piece of investing advice by Andy Clarke. Let's start with the following baseline scenario:
Investor begins working at 25, but starts saving at age 35.
12% savings rate
Moderate asset allocation (50% stocks and 50% bonds)
Salary starts at $30,000 but increases with age
Now, imagine there are three "levers" that you could pull in order to try and increase your final savings balance at retirement – asset allocation, savings rate, or time horizon. In each case, everything else in the scenario stays the same.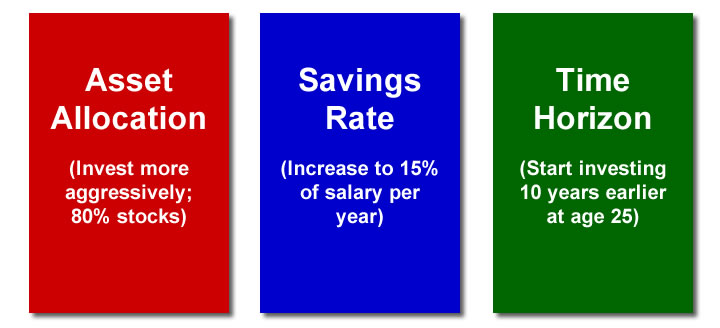 Which single option do you think has the most impact? Taken from the blog post, the results below are based the median balance found after running Monte Carlo computer simulations based on historical returns.

I would look past the absolute values and instead focus on the relative effect of each option. In case you haven't figured it out, the one piece of investing advice is "save more". The easiest lever to pull is a more aggressive asset allocation because it doesn't require the pain of spending less and saving more (though you get more stomach-churning bumps and less reliable results). But here we see that saving just 3% more was equally powerful. If you pulled all three levers, your final balance would have more than doubled!