There was a recent post on how much savings one should have at age 30 over at the Bogleheads forum. Being 30 myself, I was intrigued, but I am in the camp that believes that there is no right answer at 30. You're still so young that you could just be out of school for a few years, and at that time it's mostly up to how much student loan debt you racked up. Most important might be your ability to live under your means, and that you're learning a valuable skill of some sort.
However, there was mention of a paper the the FPA Journal called Personal Financial Ratios: An Elegant Road Map to Financial Health and Retirement, where the author presents a variety of ratios as a rough benchmark to help clients determine whether they are on track to retire by age 65. These include Savings-to-Income, Debt-to-Income, and Savings Rate-to-Income.
The actual numbers depend on how you believe your investments will perform annually after inflation. (5% on the left table, 4% on the right.) Definitions below.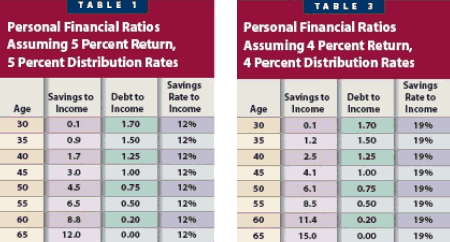 Savings include the current value of one's investments, such as a 401(k), IRAs, brokerage accounts, investment real estate, and the value of any private business interests. The home is excluded as an investment. Debt comprises all debt, including mortgage, student loans, car, and consumer debt. Savings rate refers to the percentage of pre-tax income an investor is saving each year out of their total income.
A Hypothetical Example
Let's take a look at a hypothetical 45-year-old individual to see how he might use the ratios to assess his financial circumstances. This person has the following financial statistics:

Salary $110,000
Mortgage $125,000
Auto Loan $25,000
Investments $260,000
Annual Savings $10,000
Employer 401(k) Match $3,000

Based on these statistics, the hypothetical individual ratios are as follows:

Savings to Earnings: $260,000 / $110,000 = 2.36
Debt to Earnings: ($125,000 + $25,000) / $110,000 = 1.36
Savings Rate to Earnings: ($10,000 + $3,000) / $110,000 = 11.8 %
As for us, we're doing okay according to the table for age 30 regarding the savings-to-income ratios (0.5) and savings rate-to-income ratios (50%+). Our debt-to-income ratio is a bit high though, at around 2. Of course, this is highly dependent on our income number, which might change if we downshift with kids. I guess that's another reason to wait until we're a bit older to really start benchmarking like this.
One thing I don't like about the ratios is that home equity is never included, because the author says that it's hard to extract home equity. Okay, I agree on that point, but there is no mention of compensating for renters in the analysis. If I have no debt at age 65 + a paid-off house, that's a lot different than no debt at 65 + still paying rent forever. My largest expense by far is housing (greater than all other expenses combined), and having that taken care of changes my retirement outlook drastically.
So… should we be using these ratios as a benchmark?