The blog Short Side of Long has a nice post discussing the relative performance of several different asset classes over the last few years. The charts especially caught my eye, and I went over to Stockcharts.com to make my own with the asset classes that I prefer to follow.
Here are 2013 year-to-date price charts for selected major asset classes (using representative ETFs): total US stock market (ticker VTI), total international stock market (ticker VXUS), total US bond market (ticker BND), inflation-protected US bonds (ticker TIP), and gold (ticker GLD). Dividends are not included. As mentioned earlier, 2013 was year where assets didn't move in sync (lower correlations).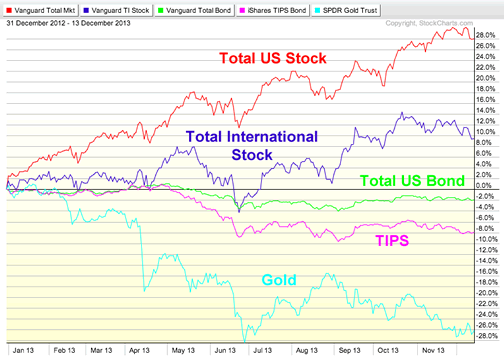 (click to enlarge)
The chart below shows the same ETFs over all of 2012. Looking back, it felt like every asset class ended positively and everything was recovering in 2012.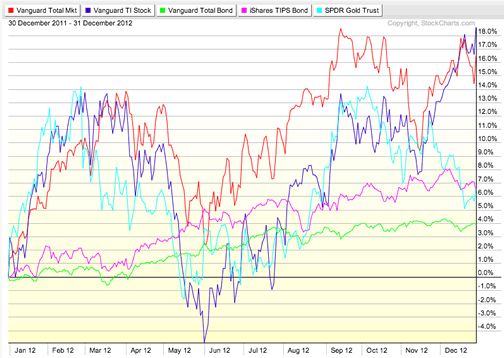 (click to enlarge)
The chart below shows the same ETFs for the past 3 years (January 2011-December 2013, as I can go without paying for a site subscription). Whatever your feelings on gold, I'd still say the price movement is pretty volatile for something that is considered "real money". Stocks also offered quite a bumpy ride, while bonds again offered a much calmer one.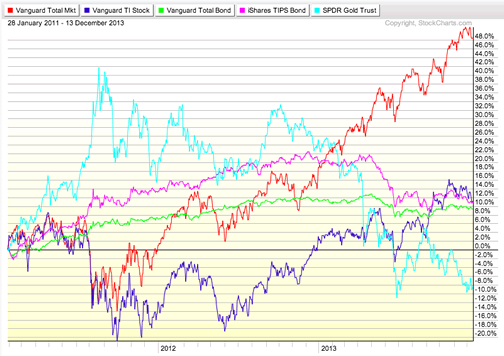 (click to enlarge)
I do think now is a good time to rebalance your asset allocation if you haven't done so in a while.