Americans are watching more TV than ever at least according to Nielsen and AllThingsD. Television remains the biggest chunk of the nearly 60 hours of media consumed every week. Here's how those 60 hours break down across TV, radio, online, and mobile in 2012.

If you did the quick math like I did, yes 35 divided by 7 days is an average of 5 hours of TV per day. Five hours! Even with all the buzz about Netflix, the numbers haven't changed all that much over the last few years: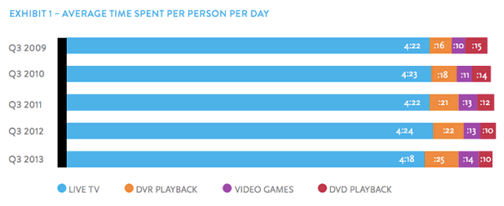 I did some quick searching and found the 2012 American Time Use Survey (ATUS) by the U.S. Bureau of Labor Statistics gave some slightly different numbers:
Watching TV was the leisure activity that occupied the most time (2.8 hours per day), accounting for about half of leisure time, on average, for those age 15 and over.
(I'm not sure what the cause of this big difference is, my best guess is that the BLS survey depends on self-reported answers, while Nielsen data includes set-top boxes that quietly track actual usage. People may think or only want to admit they watch less TV than they really do.)
I don't begrudge anyone the act of decompressing after a day of work. I watch TV to relax too. But sitting for 3-5 hours in front of the TV every single day? I don't see how someone who does that can also complain about being "too busy" to cook their own food or do other self-improvement projects. Learn a new skill, get a better job, start a side business. Warren Buffett's investment partner friend Charlie Munger recommends working for yourself an hour every day. I mean, who else is going to do it?