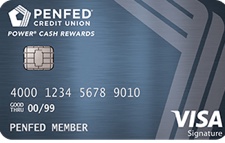 Pentagon Federal Credit Union (PenFed), the 3rd largest US credit union by assets, launched the PenFed Power Cash Rewards Visa Card in 2017. This credit card offers up to 2% flat cash back with no earning caps and no annual fee. Here are the highlights:
Sign-up bonus: $100 statement credit when you spend $1,500 in the first 90 days.
2% cash back on all purchases with PenFed Honors Advantage (qualifying military service or PenFed checking account, details below). Otherwise, you get 1.5% cash back on all purchases.
No annual fee.
0% Intro APR on balance transfers for 12 months. 3% balance transfer fee.
No foreign transaction fees.
PenFed Honors Advantage requires either of the following:
Military service (active, reserve, retired, or honorably discharged).
Checking account. Have and maintain a PenFed Access America Checking Account. This account has no monthly fee with daily balance or monthly direct deposit of $500 or more. $25 minimum opening deposit. As long as the account is open, you qualify for the 2% cash back.
In other words, if you don't have military service, opening and keeping $500 in their Access America Checking Account will keep you qualified without a direct deposit or minimum activity requirements.
Cash back redemption options. Your cash back rewards can be redeemed as a statement credit, a deposit into a PenFed account, or a deposit into an external bank account. Simple.
Competition. The following cards currently offer a competitive level of cash back rewards. Some offer higher rewards, but with additional requirements and/or an annual fee. Please read my card-specific reviews for details.
PenFed CU membership eligibility. Check out their eligibility tool. If you have a military affiliation, chances are that you can join immediately. However, anyone in the general public can also gain access by first joining either the National Military Family Association or Voices for America's Troops. Both of these partner organizations can be joined with a one-time donation of $17.
Bottom line. The PenFed Power Cash Rewards Visa Card offers 2% flat cash back on all purchases with no annual fee. There is currently a $100 sign-up bonus if you make $1,500 in purchases within the first 90 days. PenFed Credit Union membership is required, but is also open to anyone willing to donate $17 to the National Military Family Association (NMFA).
If you already have one of the other 2% cash back cards available with less requirements, this may not warrant an additional credit check and new bank account. However, PenFed does offer good customer service and other financial products. You might consider making them your primary banking institution if you live near PenFed branches (often near military bases).