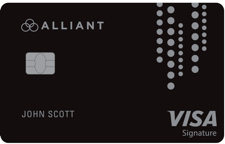 New rules as of July 2021. Alliant Credit Union, the 5th largest US credit union by assets, is changing up the terms of their Alliant Visa Signature Credit Card (again) as of July 2021. There are now additional hurdles to achieving the full 2.5% cash back, but the good news is that the previous $99 annual fee is going away for everyone. There are now two separate "tiers" of cash back rewards:
Tier 1: Up to 2.5% cash back
2.5% cash back on up to $10,000 in qualifying purchases per billing cycle. On purchases above that $10,000 cap, you get 1.5% cash back.
For existing cardholders or if you open this card by 7/13/21, you automatically get Tier 1 for the July, August and September 2021 billing cycles.
In order to qualify for Tier 1 for October-December 2021, you must meet the requirements for an Alliant High-Rate Checking account each month of the third calendar quarter (July, August and September of 2021), AND maintain an average daily balance of $1,000 or more in their Alliant High-Rate Checking account for the last two months of the calendar quarter
(August and September of 2021).
Qualification for Tier 1 repeats every future quarter in the same manner. Keep everything up for Q4 2021, and you get Tier 1 for Q1 2022, and so on.
No annual fee.
Tier 2: Flat 1.5% cash back
If you do not meet the requirements listed above, you default to Tier 2.
1.5% flat cash back on all qualifying purchases.
No annual fee.
Redeem cash back rewards via a credit card statement credit (takes up to two billing cycles) or as a deposit into your Alliant checking or savings. Must first accrue $50 in cash back rewards.
Requirements for Alliant High-Rate Checking account
Must opt-in to free online statements.
Must have at least one monthly electronic deposit posted to your checking account in each calendar month. An electronic deposit is defined as a direct deposit, payroll deposit, ATM deposit, mobile check deposit OR transfer from another financial institution.
Competition. Please read my card-specific reviews for details.
Alliant CU membership eligibility. If you start the online membership application, it does a good job of walking you through their various eligibility options. If you don't otherwise qualify, anyone can join as a member of the Foster Care to Success (FC2S) charity group, and Alliant will now pay that $5 fee on your behalf. In other words… now anyone can join for free.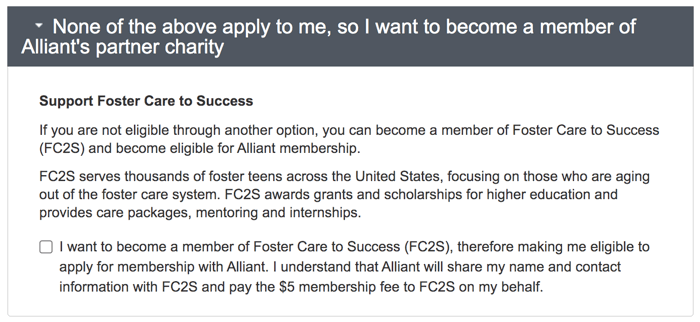 My take. Overall, I think this is a smart and practical move on their part. Historically, any credit card paying above 2% cash back with no annual fee has not been sustainable on its own. The only way to make it profitable is to offer it as part of a greater "relationship" with the financial institution. For example, Bank of America has its Preferred Rewards program to encourage additional bank and brokerage holdings. Here, Alliant is now requiring you to maintain a certain level of activity on their checking account. The one monthly direct deposit (can be a simple ACH bank-to-bank transfer) and $1,000 minimum balance is relatively easy to achieve when compared to competitors that require a payroll direct deposit or 12+ debit card transactions per month.
In exchange, earning an extra 0.5% cash back on up to $120,000 in purchases annually is worth potentially an extra $600 a year in cash back over a flat 2% card, although I'd run your own estimate as very few households will charge that much. Some people will value the simplicity of keeping a single credit card with excellent cash back on almost everything and no categories to track.
I would skip the Tier 2 option completely. At 1.5% cash back for the tier with no checking account, it's just another ho-hum average credit card.
Bottom line. The Alliant Visa Signature Credit Card offers up to 2.5% cash back on up to $10,000 on all qualifying purchases per month (no categories) with no annual fee, but you'll need an active Alliant High-Rate Checking account amongst other requirements. Membership is easy and free.