Update December 2021: On December 15th, 2021, HMBradley announced upcoming changes to their interest rate that will become effective February 1st, 2022, along with changes to their credit card boosts that are effective January 1st, 2022. See my HM Bradley review for additional commentary.)
Original post (will be outdated as of 1/1/2022):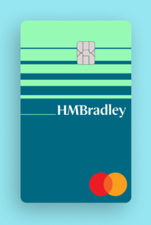 I've reviewed the HM Bradley Checking account as a new bank option offering interest rates of up to 3% APY on balances up to $100,000, depending on factors like savings rate and direct deposit. Last week, I finally managed to qualify for their HM Bradley credit card, which offers additional advantages when used with their banking product:
Savings Tier Boost: Get boosted to the next highest Savings Tier APY when you spend at least $100 each monthly cycle on the HM Bradley credit card AND have a least $2,500 in monthly direct deposits for each month of the previous quarter. If you are already at the highest Savings Tier, they will increase your APY by another 0.5% APY. (Currently, this makes it a possible 3.5% APY.)
Savings Tier Protection: When you pay your HMBradley Credit Card with your deposit account, it won't count against your Savings Tiers.
Annual fee waived for the first year, then $60 (charged as $5 per month?).
3-2-1 Cashback rewards on credit card purchases details:
3% cash back on your top eligible spending category each monthly statement cycle
2% cash back on your next eligible spending category each monthly statement cycle
1% cash back on everything else.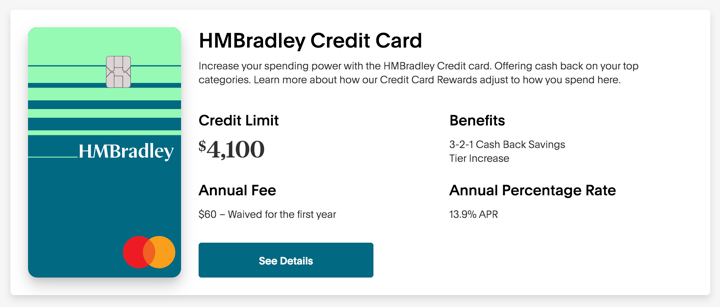 How do I apply for the HM Bradley credit card? I can't find the application. As someone who already had a sizable amount deposited at HM Bradley, I was definitely interested in that 0.5% APY boost. However, I couldn't find an application link anywhere! This is what they tell you to do:
With an active HMBradley account, you just need to opt into One Click Credit, and we will automatically notify you if you are eligible for the HMBradley Credit Card. We send offers at the beginning of every month, so be sure to check your account and email to see if you qualify. With One Click Credit, you authorize us to make a soft inquiry on your credit report each month for twelve months to determine if you are eligible for the HMBradley Credit Card. The inquiry does not affect your credit score and is not an application for credit.
I followed their directions have been opted in to "One Click Credit" for several months. Yet, what I didn't know was that they also screen people based on income (not only credit score), AND they estimate your income based on your direct deposits to HM Bradley. I split my direct deposit many different ways, so they thought my income was too low.
It turns out the magic number for me was about $2,500 in direct deposits within a month. As soon as my HMB direct deposit was higher than that threshold, I was invited with an email subject "You have a new credit offer!". This also happens to match their ongoing requirements, but I can't be sure that this is the same number for everyone. I'm just reporting my own experience.
Alternatively, if you click on the "Insights" tab on the left, you can also self-report your income now in order to help you qualify for this credit card. Again, I am not sure what minimum income they are looking for, but the range looks to be above a minimum of roughly $35,000 per year.
List of eligible categories. Taken from their fine print:
• Education
• Motor Vehicle
• Pets
• Groceries
• Utilities
• Financial
• Gas
• Shopping
• Entertainment
• Alcohol & Bars
• Dining
• Healthcare & Childcare
• Professional Services
• Health & Fitness
• Home
• Furniture
• Personal Care
• Business Services
• Electronics & Software
• Air Travel
• Ground Transportation
• Lodging
• Sporting Goods
My take and a warning. Their 3-2-1 cash back rewards structure includes some unique categories that I don't see on other credit cards, and another positive factor is a lack of a cap on earned rewards. Thus, if you happen to make large credit card purchases in specific niche categories like Education or Healthcare/Childcare, then the 3% cash back may be attractive. Otherwise, you may be better off with a flat 2% cash back on everything with no annual fee, especially given that HMB will charge a $60 annual fee after the first year.
More significant to me was the Savings Tier Boost. As I'm already at the 3% APY tier, earning an additional 0.5% APY could be worth up to hundreds of dollars a year. $10,000 at 0.50% APY would be another $50 a year, almost covering that eventual $60 annual fee. $50,000 at 0.5% APY would be $250 in additional interest per year. $100,000 at 0.5% APY would be $500 in additional interest per year. Definitely a nice ongoing perk to encourage me to use their bank and credit card frequently.
However, I just noticed this line in their fine print about the Saving Tier Boost promo: "Offer expires December 31, 2021." That was a surprise. I don't like the idea of promoting something as a headline credit card feature when you already plan on having it expire in less than 7 months. I do hope they extend it, as without this feature I would not have applied for this card.
Bottom line. The HM Bradley credit card offers a unique set of perks that currently mesh really well with their banking product. Be aware that you must maintain an certain minimum monthly direct deposit into their HM Bradley checking account in order to be invited to apply (roughly $2,500 a month for me). Before applying, be aware that the Savings Tier Boost feature is set to end on December 31, 2021.