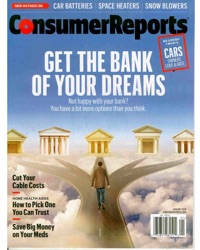 Consumer Reports is getting more into financial products, with their January 2016 issue cover article on Choosing The Best Bank For You, most of which was also made available to the public without a subscription. If you haven't optimized your bank account setup recently and you missed it the first time around, the article is worth a read. Perhaps it was just anecdotal, but I read somewhere that most people are still with their first bank account out of high school.
Here are their high-level conclusions:
Mega Banks: Best for Convenience, Technology, Security
Credit Unions: Best for In-Person Customer Service, Lower Costs
Primarily Online Banks: Best for Online Customer Service, Higher Savings Rates, Lower Costs
Smaller Regional and Community Banks: Best for Personal Service
Prepaid Cards: Easier to get than a bank checking account but some are loaded with gotchas.
It appears that Consumer Reports is still keeping their specific rankings and numbers behind a subscription paywall. But they do agree with me about the idea of spreading your wealth and choosing your financial accounts a la carte to get the best deals.
Now, I am not the ideal person to emulate as I have too much complexity in my financial accounts. The only good news is that I have tried so many of them. Here are the accounts that I currently have open, and what I think about them. For the most part, my experiences align with the Consumer Reports findings.
Megabank: Bank of America
Pros: ATMs and branches everywhere nearby. Good online and app user interface (Touch ID). Good perks when combined with brokerage and credit cards.
Cons: Basically-zero interest rates.
Credit Union: Local, Community CU
Pros: Free notary, low interest rate HELOC.
Cons: Small ATM and branch footprint, poor online and app user interface, current low interest rates (used to have a rewards checking account).
Primarily Online Bank: Ally Bank (see Ally review)
Pros: High interest rates, fast and flexible interbank transfers, good customer service, good online and app user interface (Touch ID).
Cons: No physical branches.
Prepaid Card: NetSpend (see NetSpend review)
Pros: 5% APY on $5,000 balance if card kept active. (Update: 5% APY on $1,000 starting 7/1/16.)
Cons: Certain fees and fine print to work around.
In terms of the convenience factor, my new favorite feature is Touch ID with Apple iPhones. (Android has their own version, I'm just not familiar with it.) BofA, Ally Bank, Mint, Fidelity, and Robinhood supporting this app feature, I can now get full access to transaction history and even initiate online transfers in under 10 seconds. I hope Vanguard adds this soon (cough, cough!).