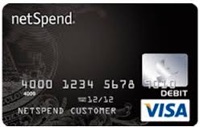 (Update: On 5/31, NetSpend effectively issued a 30-day notice that the rate structure will be changed as of July 1st, 2016 such that the 5% APY will apply up to $1,000 and anything above that gets 0.50% APY. The 5% APY will apply to up to $5,000 until June 30, 2016 which is when the next quarterly interest payment will post. Thanks to all who notified me of this change.)
Prepaid debit cards are a growing niche for the "under-banked" or "un-banked" who can't or don't want to use traditional checking accounts to hold their cash. In order to promote the adoption of prepaid debit cards as their sole financial hub, many now offer the option of an attached high-interest savings account.
The NetSpend Prepaid Visa offers 5% APY on balances up to $5,000. For balances over $5,000, it pays 0.50% APY. Even with the balance limit, this is an attractive rate and worth a look even if you don't need a prepaid debit card otherwise. I've had this card open since September 2015, but a quirk of this card is that interest is only paid quarterly, so I waited to see if the 5% APY (4.91% APR) would post correctly. As you can see in the screenshot below, the interest for all 3 months was credited as promised at roughly $20.50 per month. (The 0.50% APY on balances above $5,000 is credited on a separate line.)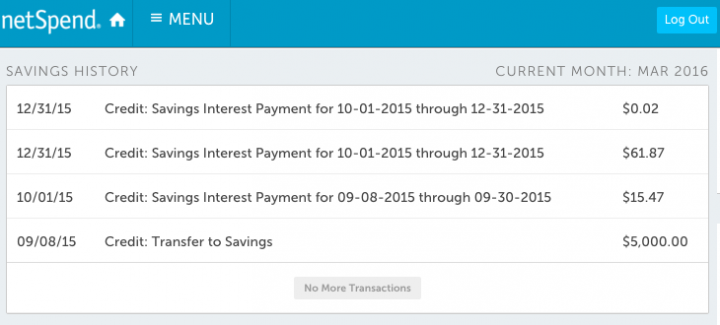 For the purposes of this review, I will not focus on most aspects of the prepaid debit card. I am primarily interested in maximizing the savings account feature and the avoidance of any fees.
Account opening process. Visit the Netspend website and enter your personal details to order a card (name, address, e-mail). No credit check. No application fee. You will eventually need to provide your Social Security number as required by law, since you'll be opening a FDIC-insured bank account. If you are referred by an existing user (links above are mine, thanks if you use it), both get an additional $20 bonus after depositing at least $40. After signing up, you can also refer your own friend and family for more $20 bonuses.
Once the physical card arrives in about a week, follow the included directions and activate your account online. You will be provided your unique account number and a routing number, which will allow you to make electronic ACH transfers from your external bank accounts. You can also use this information to have direct deposit set up with your payroll or government benefits.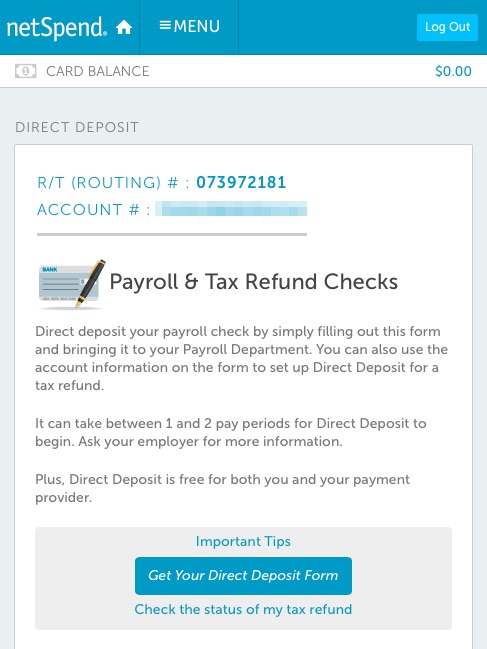 5% APY savings account funding directions. Previously, you had to upgrade to Netspend Premier to get the 5% APY savings account option. This requirement appears to have been removed. You must use an external bank to "push" money over into the Netspend card. I used my Ally Bank savings account as the transfer agent (screenshot below). I used the account and routing numbers provided, which confirmed that the underlying FDIC-insured bank is MetaBank of Sioux Falls, South Dakota. Other banks that they say may be used are BofI Federal Bank and The Bancorp Bank.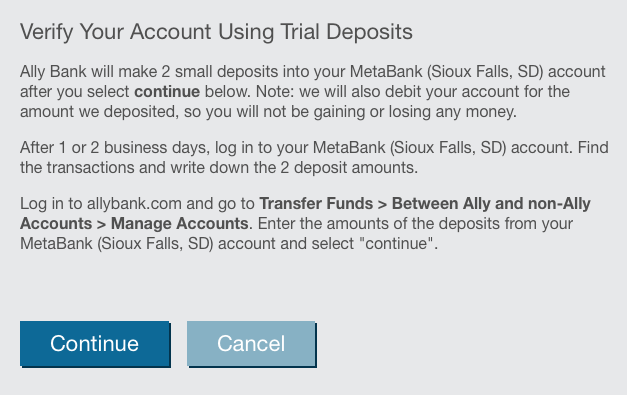 Then, all you need to do is move over $5,000 from your external bank to your Card Balance, and then move that $5,000 over to your Savings Balance. Your Card Balance is the part that can be spent via prepaid debit card, but it will not earn any interest, so be sure to move it over to Savings Balance. They are separate buckets! Here are the before and after screenshots (click to enlarge).

The Savings Account has no monthly minimum balance requirement and no monthly fees. Transfers between Card Balance and Savings Balance are free, but the number of withdrawals from Savings Balance are limited to 6 per calendar month by federal banking laws.
Avoiding Debit Card fees. Now, the Savings Account has no monthly fees, but the Debit Card does have a choice of plans with their own fee schedules. Since I don't plan on making any actual purchases using this debit card, I chose the Pay As You Go plan with no monthly fee. Now, with this plan there is also an account maintenance fee of $5.95 per month:
Account Maintenance Fee $5.95 per month (fee applies if Card Account has not had any activity, that is, no purchases; no cash withdrawals; no load transactions; or no balance inquiry fee for 90 days). If enrolled in any FeeAdvantage Plan and your Card Account has had no activity as described above, this fee applies instead of the Plan Fee.
The simple solution to avoid this fee is to load a few dollars once every 90 days via your original ACH transfer source. Most banks will even let you set up an automated transfer schedule; I like every month just because it serves as a monthly reminder to check the balance, APY, etc. You could also use their mobile app and make a check deposit.
Withdrawals. The easiest way to make a withdrawal is again via "ACH pull" from your external transfer bank. Remember, you'll have to move the funds over from "Savings" to "Card". Another free alternative is to use the BillPay feature and pay down a credit card bill using your funds. If you have a credit card that you use regularly, you can even make an overpayment and simply hold a negative balance until it gets used up by future credit card purchases. Finally, you could just use the Visa feature to buy something or make an ATM withdrawal (subject to daily limits), but you may be subject to transaction fees.
Additional cards. If you have a spouse or partner, you could both get a NetSpend Prepaid card which would bring your 5% APY limit to $10,000. There are also other cards which offer a similar setup, including Brink's Prepaid (I have this one as well), Ace Elite, and Western Union. If you had one of each of these (which is still allowed to the best of my knowledge), then that would bring your theoretical limit to $20,000 for an individual or $40,000 for a couple.
Recap. Yes, it really works, as long as you set it up properly and maintain an active account. As compared to a 1% APY savings account, each $5,000 balance at 5% APY would earn $200 more in taxable interest income each year. It is up to you to weigh the potential reward vs. effort, also taking into account the size of your cash balances.