(This is the fourth in my series of Model Portfolio Comparisons.)
I hope people aren't getting overwhelmed by all of these portfolios. Remember, the law of diminishing returns applies to investment complexity as well. After a while, adding more asset classes and mutual funds doesn't get you that much more expected return. If you're getting bored, try some of the earlier portfolios and tune out the rest. Personally, I don't mind having 8 funds or so, and I've found that after the initial setup the maintenance is pretty minimal.
William Bernstein, both a neurologist and a founder of his own money management firm, is the author of the challenging but information-packed book The Intelligent Asset Allocator (my review). Here is one model portfolio for those that desire moderate complexity and high risk. The author warns that while this asset allocation has very high expected long-term returns, it will behave much differently than the S&P 500 fund that many people use as benchmarks.
Bold Investor Model Portfolio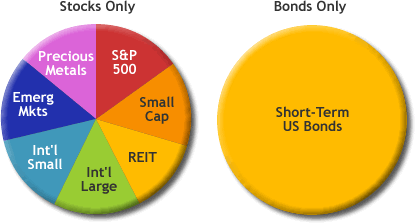 Asset Allocation for 70% Stocks/30% Bonds ratio
10% S&P 500
10% Small Cap
10% REIT
10% International Large
10% International Small
10% Emerging Markets
10% Precious Metals
30% U.S. Short Term Bonds
I think I've covered example mutual funds and ETFs for all of these asset classes except for precious metals in the other model portfolios, so I won't repeat them here.
Possible Precious Metals Funds
streetTRACKS Gold Shares ETF (GLD)
American Century Global Gold Fund (BGEIX)
This asset allocation differs from some of the previous ones by having a larger percentage of stocks in international companies, as well as adding in precious metals exposure. I actually don't remember seeing this mix when I first read IAA – it's very interesting.